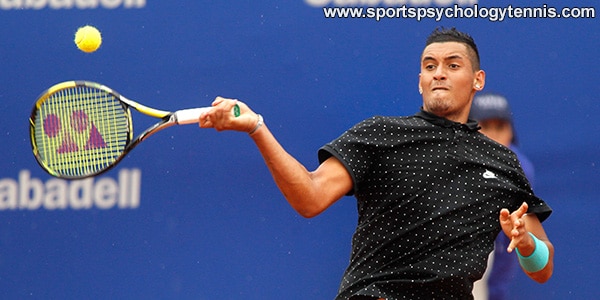 Tennis Mindset and Playing Rivals
Does playing a rival get you revved up up, tense, or worried?
Rivalries are an exciting part of tennis but not all tennis players look forward to playing in those tough matches.
What makes some players rise to the occasion when facing a rival while other players become tense and nervous and under perform against their rivals?
This topic was recently posed by a high school junior who responded to our Mental Game of Tennis survey:
"I've been playing tennis for 10 years and I've been competing against this one player ever since I started playing. When we were younger, we were evenly matched, and it was fun playing against her. Ever since Freshman year in high school, my nerves get the best of me and she beats me most of the time. I feel I am as talented as she is, but I play so poorly against her now. What can I do?"
The main thing you can do is change how you view your matches against your rival.
You have the choice between two mindsets when you face rivals. One mindset is based on fear, mainly the fear of losing. You feel that losing against your rival is a statement about your ability or lack of ability.
When you were younger, you felt you were comparable in ability. That is the reason you fought for every point in matches against your opponent. Now you feel your rival has advanced her game a bit more than you.
The other mindset is based on challenges or growth. In this mindset, you view matches as challenges no matter who you play.
In a growth mindset, you see every match as an opportunity to learn, grow and motivate to take your game to the next level.
In terms of rivalries, Novak Djokovic looks forward to playing against his rivals Roger Federer and Rafael Nadal. Djokovic feels that playing helps refine his game even if he loses. Djokovic, Federer and Nadal have won a combined 56 Grand Slam titles.
DJOKOVIC: "What Roger and Rafa are doing is epic. Both of these guys are legends. They do inspire me and I have said this millions of times and I will say it again. They made me the player I am today. They still continue to inspire me and motivate me to be even better."
As you can see, your mindset is everything when playing against your rivals. The fear mindset will hold you back from your potential while the growth mindset will challenge and inspire you to work hard and improve your performance on the court.
Your Mindset when Playing Rivals
Improving your performance against rivals starts with overcoming the fear about it…
You want to understand how your mindset affects your game–how fear changes your performance on the court.
You can start examining your fear by asking yourself, "What does losing to my tennis rival mean to me?" "What is so awful about this?"
Once you understand the underlying fear, you can address it head on and begin to change your mindset about playing rivals.
---
Related Tennis Psychology Articles:
*Subscribe to The Tennis Psychology Podcast on iTunes
*Subscribe to The Tennis Psychology Podcast on Spotify
---
Improve Your Mental Game for Tennis
Tennis Confidence 2.0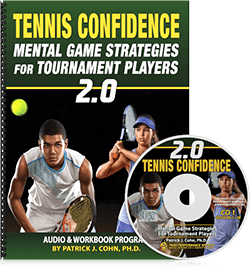 "Tennis Confidence: Mental Game Strategies for Tournament Players" is Dr. Cohn's program to help tennis players, coaches, and instructors improve the mental game of tennis is just 8 easy to learn sessions. Tennis Confidence: Mental Game Strategies for Tournament Players Audio and Workbook program is ideal for any junior, collegiate, and tour professional player. Tennis coaches and instructors would also be wise to teach the strategies in "Tennis Confidence 2.0."
Tennis Confidence is a complete mental training program developed Dr. Cohn. You learn the same strategies Dr. Cohn teaches his personal students to help them improve mental toughness and consistency – from managing unrealistic expectations to coping with perfectionism. 
Read more about Tennis Confidence Program>>