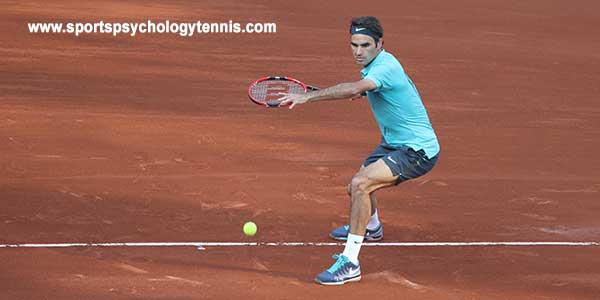 Managing Anxiety When Playing Against Top Players
How can a tennis player climb to the number one ranking and STAY THERE?
How was Serena Williams able to hold onto the top ranking for 186 consecutive weeks?
What was Novak Djokovic's mindset that helped him maintain the No. 1 ranking for 373 straight weeks?
Getting to the top is challenging. Staying on top is quite another story.
When competing and working to climb the rankings, you have a target that drives your effort and focus.
At Peak Performance Sports, we received a question from a collegiate tennis player about staying on top:
"Every time I break into the Top-10 in my conference, I panic. Twice I was ranked in the Top-5 in my conference and fell out of the Top-10 towards the end of the season. Is there something mentally I can do to keep playing my best tennis when I have a high ranking?"
Staying on top is a mindset and focus issue.
When you are trying to climb the rankings, you look to hone every aspect of your game.
You scratch and claw to climb to the top. You push your limits in training sessions. You are exhausted after practice matches.
You have a "play to win" mindset when you compete in matches.
After all, you have nothing to lose. You are already not in the Top 10. In fact, losing to a top player is almost "excusable."
However, your mindset can drastically change after you break into the Top 10.
You start to think, "There is nowhere to go but down."
You feel there is more at stake in matches, more pressure. You think you are expected to win every match against players with a lower ranking.
Even in practice, you feel pressure to be the top dog. Matches are more about not losing than playing to win.
Overcoming this problem requires you to have the same mindset, whether you are ranked in the Top-10 or lower in the rankings and whether it is the championship final or a practice match.
You should have the mindset to scratch and claw to win each match, set, game, or point.
Five days after Carlos Alcaraz won his first major tournament at the 2022 US Open, Alcaraz competed in the Davis Cup. Despite losing to Felix Auger-Aliassime 6-7 (3), 6-4, 6-2 at the 2022 Davis Cup, Alcaraz embodied the "champion mindset."
ALCARAZ: "It's incredible to be the youngest #1 ever. But it's much tougher what the Big 3 is doing: stay on top for 20 years. That's what I'm looking for. I don't wanna compare myself to them, but I wanna be like them. I'm at 60% of my potential. There are a lot of things to improve. I have to improve mentally and physically. The tennis too. I can stay in my comfort zone."
Win or lose, your mindset should be the same. This mindset can be summed up as: prepare my best, play my best, reset after the match, and repeat.
This mindset keeps you focused on preparing to win and playing to win.
Being at the top is one thing; staying at the top is quite another.
The following two questions can reveal a lot about maintaining an optimal mindset:
How did I break into the Top 10?
What was my thought process in matches when attempting to climb the rankings?
Your answer to these questions will reveal how you can stay on top.
Related Tennis Psychology Articles
*Subscribe to The Tennis Psychology Podcast on iTunes
*Subscribe to The Tennis Psychology Podcast on Spotify
---
Improve Your Mental Game for Tennis
Tennis Confidence 2.0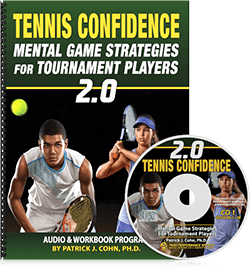 "Tennis Confidence: Mental Game Strategies for Tournament Players" is an audio and workbook program to help tennis players, coaches, and instructors improve the mental game of tennis is just 10 easy to learn sessions. Tennis Confidence: Mental Game Strategies for Tournament Players Audio and Workbook program is ideal for any junior, collegiate, and tour professional player. Tennis coaches and instructors would also be wise to teach the strategies "Tennis Confidence."
Tennis Confidence is a complete mental training program developed Peak Performance Sports. You learn the same strategies Dr. Cohn teaches his tennis players to help them improve mental toughness and consistency – from managing unrealistic expectations to coping with perfectionism.
Read more about Tennis Confidence Program>>