Managing Your Pressure in Tennis
Winning often raises the bar for tennis players. With increased success on the court, expectations also increase.
The sentiment is often, "Well, you won it last year, so you will play at the same level or even better." You are expected to win matches from the previous year and win the same tournaments.
The pressure experienced by some athletes after a great season causes many players to take a giant step backward.
Not only do you feel expectations of others (parents, coaches, teammates, friends, etc.) but the expectations you have for yourself are also high.
More expectations lead tennis players to under perform because expectations equal pressure.
When you were playing at your best during a training season, pressure was probably at a minimum…
You won matches that no one expected you to win. You went out on the court and just gave it your all and playing in the moment. Your excitement grew, as well as your belief, as you started winning sets that no one expected you to win.
When you play with that "nothing-to-lose" mindset, you feel no pressure and you perform closer to your peak.
Managing the pressure and keeping expectations in perspective are the keys to continued success in tennis.
But there are many times in professional tennis where we see top-ranked players succumb to pressure of high expectations.
Angelique Kerber took over the No. 1 ranking from Serena Williams last year but has not played like the top woman's player in the world.
In fact, Kerber lost in the first round of the French Open to 40th-ranked Ekaterina Makarova 2-6, 2-6 becoming the first woman seeded No. 1 to lose in the French Open's first round in the professional era.
Kerber, who won the Australian Open and U.S. Open, and was the Wimbledon runner-up, has crumbled under the weight of high expectations and increased pressure. This year, Kerber has a 19-13 record and has lost 4 of her past 6 matches.
Kerber felt her performance suffered due to the excessive expectations she placed upon herself.
KERBER: "This year, the expectations are much bigger, especially in the big tournaments and the Grand Slams – and the expectations are also from me really big, of course, because I know what I can do, what I did last year… Right now, I think that I have to find to myself again and just trying to forget the clay court season as soon as possible, and then reset and start from the grass courts again."
Excessively high expectations take your focus away from just playing the game of tennis and push your mind into worrying about possible future outcomes.
You cannot play at your peak in the present when your mind is worried about the future.
How to Manage Expectations:
First, identify what expectations you are feeling for an upcoming match. These might be about results or your performance every point.
Next, ask yourself if playing with these expectations are helpful or help you focus on playing one point at a time? If not throw them out…
Replace these expectations with small objectives when you perform, such as to plan and visualize a good serve or to trust your the stroke you have been practicing in training.
---
Related Tennis Psychology Articles:
*Subscribe to The Tennis Psychology Podcast on iTunes
*Subscribe to The Tennis Psychology Podcast on Spotify
---
Improve Your Mental Game for Tennis
Tennis Confidence 2.0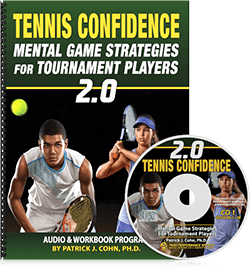 "Tennis Confidence: Mental Game Strategies for Tournament Players" is Dr. Cohn's program to help tennis players, coaches, and instructors improve the mental game of tennis is just 8 easy to learn sessions. Tennis Confidence: Mental Game Strategies for Tournament Players Audio and Workbook program is ideal for any junior, collegiate, and tour professional player. Tennis coaches and instructors would also be wise to teach the strategies in "Tennis Confidence 2.0."
Tennis Confidence is a complete mental training program developed Dr. Cohn. You learn the same strategies Dr. Cohn teaches his personal students to help them improve mental toughness and consistency – from managing unrealistic expectations to coping with perfectionism. 
Read more about Tennis Confidence Program>>