Mental Strategies to Battle For Each Point in Tennis
Tennis is a sport totally tied to statistics… win-loss records, tournaments won, serve percentages, rankings, return percentage, total points won-lost, number of unforced errors and winners, etc.
Results and stats matter to tennis players.
Unfortunately, tennis players can get trapped into gauging their value as a tennis player by their results.
To illustrate this point, let's examine the case of Gabby B., a 12 year-old tennis player…
Gabby trains a local top-level club where she hovers towards the top of her age group.
When Gabby wins matches, she feels good and thinks she can compete against most girls in her age group.
Conversely, when Gabby is "off" her game, she feels like the worst on her team.
Gabby takes losses personally and uses that as false evidence to support her view that she has no talent.
Losses are devastating to Gabby and she beats herself up over every fault, unforced error, poorly placed shot and lost point.
Gabby puts so much pressure on herself because, in her mind, she is only as good as her results.
This "result-oriented" mindset has Gabby constantly anxious and riding an emotional roller coaster.
Needless to say, Gabby's confidence is all over the place…
But there is an alternate mindset that can keep your confidence in a positive range throughout the season…
The most effective mindset is a 'focus-in-the-moment' mindset.
Of course, you want positive results but positive results come from focusing on the process or what needs to be done in the moment.
A successful tournament is the result of a many of 'mini battles.' Each point makes a contribution to the overall outcome.
Your focus as a tennis players should be on playing your best during the present point and not labeling the point (game point, ad-in, ad-out).
And if you lose a match, it doesn't mean you are flawed personally.
A lost match provides invaluable feedback on how to improve your game, such as:
What do you need going forward?
What do you need to work on in practice?
What you can do differently next match?
A present moment focus helped 20 year-old Alexander Zverev defeat Novak Djokovic 6-4, 6-3 to win the Italian Open and move up to a career-high No. 10 in the ranking.
ZVEREV: "You have to compete to the highest level every single time you step on court, and then the results will come itself. Beginning of the week, I only saw my first-round opponent, which was Kevin Anderson. Then I saw Viktor Troicki and then Fabio Fognini. I never looked in the future. Okay, who am I going to play semifinals or in the finals or something like this? You have to play match by match."
Even more specifically than in Zverev statement, you have to play point-by-point!
Remember, the only way to win a game in tennis is to battle for each point, focusing on one shot at a time.
Strategies For Battling Each Point:
View each point as a mini battle–one stroke or serve at a time.
Prior to playing a point, take a deep breath and review your strategy for that point. Tell yourself, "Only this point matters!"
When you dwell on the last point or start to think ahead, stop and refocus on the current point only.
---
Related Tennis Psychology Articles:
*Subscribe to The Tennis Psychology Podcast on iTunes
*Subscribe to The Tennis Psychology Podcast on Spotify
---
Improve Your Mental Game for Tennis
Tennis Confidence 2.0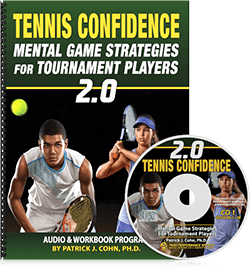 "Tennis Confidence: Mental Game Strategies for Tournament Players" is Dr. Cohn's program to help tennis players, coaches, and instructors improve the mental game of tennis is just 8 easy to learn sessions. Tennis Confidence: Mental Game Strategies for Tournament Players Audio and Workbook program is ideal for any junior, collegiate, and tour professional player. Tennis coaches and instructors would also be wise to teach the strategies in "Tennis Confidence 2.0."
Tennis Confidence is a complete mental training program developed Dr. Cohn. You learn the same strategies Dr. Cohn teaches his personal students to help them improve mental toughness and consistency – from managing unrealistic expectations to coping with perfectionism. 
Read more about Tennis Confidence Program>>