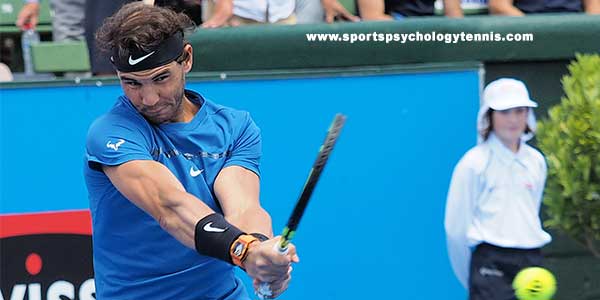 Mental Resilience for Tennis Players
How is your mental game affected when a tournament or your season doesn't go according to plan?
After setting their goals in the preseason, many players create a script in their mind how the season will unfold, "I will win "x" number of tournaments," "I will break into the top 10 by midseason," "I will go undefeated this season."
But how do you adjust when the script changes? Are you able to adapt, or do you fall apart?
In our Mental Game of Tennis Needs Survey, a collegiate tennis player sent us the following question:
"My sophomore year was a disaster. I slightly sprained my ankle in the preseason and opened the season with a string of losses. I couldn't get back on track, and mentally I couldn't bounce back. How can I stay mentally strong when things aren't going well?"
You want to set goals, but most seasons don't go according to plan or as scripted. Injuries, technique adjustments, and unexpected circumstances will always occur. If you are too rigid with your script, you will feel defeated when the situation goes off-script.
If you are the top-seed heading into the first tournament of the season, you will probably enter your first match feeling confident. You feel sharp and ready. In your first match, your opponent has you running sideline to sideline, making you run hard to return the ball.
You tire quickly in the first set, but your opponent looks solid and energetic. You wanted to set the tone for the season by winning the tournament, but you felt discouraged and let balls pass that you would usually return. The match didn't follow as scripted, and you felt mentally defeated.
When you are flexible with your mental script, you will feel confident in your ability to adjust on the fly.
Adaptability is a mindset. Preparing to be your best is necessary, but the mindset of adaptability is your best given the circumstances. When you don't have your 'A' game, the adaptability mindset looks for ways to grind out a victory.
Rafael Nadal has won only two titles in 2021 and has not reached a Major final. At the 2021 Australian Open, Nadal lost in the quarterfinal.
At the French Open, Nadal was knocked out in the semifinals. Nadal then withdrew from Wimbledon, the Olympics, and the U.S. Open. Eventually, Nadal called an end to his season due to a foot injury.
Nadal, a 20-time Major winner, set a goal in 2021 to become the first man to win 21 majors.
NADAL: "I am determined to do it [win 21 majors]. The script was playing at Wimbledon, the Olympics, or the U.S. Open. But the scripts are not to be followed to the letter… You have to adapt and accept things as they come."
The mental skill of adaptability is a characteristic possessed by elite tennis players.
When you can adjust the script, you will have the confidence to know you can overcome any obstacle that appears during the season.
Fostering the Mindset of Adaptability
While having a goal and a plan is critical for success, your script should have the flexibility to change. You want to evaluate and change you goals often during the season.
You want to plan for unexpected bumps in the road to reaching your goals. Goals are not expectations nor set in stone!
How can you rewrite the script going forward? Modify your goals and make sure to focus on improving your game and the process of goal getting!
---
Related Sports Psychology Articles
*Subscribe to The Tennis Psychology Podcast on iTunes
*Subscribe to The Tennis Psychology Podcast on Spotify
Download a free tennis psychology report to improve your mental game!