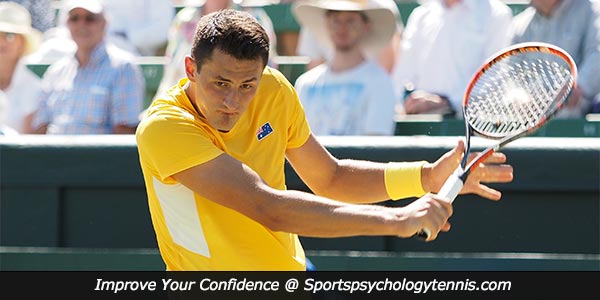 Positive Mental Images Can Improve Your Game
Have you ever had such a bad match that you replayed the negative images of that performance in your mind?
After a match, the memory of a match stays in your mind. It doesn't matter if you won or lost, nailed your first serve consistently or doubled faulted, dominated the match or under-performed, those mental images exist in your mind.
Recalling a bad match happens… Memorizing a bad match is a whole different story. Memorizing a bad match is remembering and experiencing the performance to the extreme. Memorizing a bad match has a profound, emotional impact on future matches.
You have a choice after a bad match… You can file images of the match in the back of your mind or you can replay each bad point over and over until you have committed those images to memory. When you memorize bad performances, you re-experience those negative images and learn them by heart.
Learning occurs through repetition. If you practice your backhand over and over, you start imprinting that technique in your mind. When you play your next match, you are better able to replicate that technique because you "learned" it.
Likewise, if you mentally experience every negative detail of a bad match, you imprint those images in your mind, and increase the chances of replicating those mistakes in future matches.
If memorizing a bad performance results in less confidence, then creating positive images produces confidence.
Use Visualization to Increase Your Tennis Confidence
You can increase the number of positive images you produce through visualization. Visualization is a mental skill that produces both positive images and positive emotions. When you visualize a powerful first serve, you increase the likelihood of a powerful first serve in future matches.
When you visualize bouncing back after a set down, you increase the likelihood of hanging tough when you are a set down late in matches.
When you visualize chasing balls down and returning balls for winners, you increase the likelihood of replicating those shots in future matches.
Mental images influence your play no matter if you consciously create images or unconsciously replay images in your mind.
Daniil Medvedev was aware of how negative images can affect performance. In the 2019 ATP Finals, Medvedev lost all three of his group matches including a collapse against Rafael Nadal where he led 5-1 in the third set.
In 2020, Medvedev prevented negative images of last year's performance from affecting his performance at the same tournament in 2020. In doing so, Medvedev secured a spot in the semifinals by dominating five-time champion Novak Djokovic 6-3, 6-3.
MEDVEDEV: "You always have doubts in your head, like maybe next year is going to be [like] last year in London, I'm going to go out there and be tight, again, I'm not going to show anything in the Masters finals. Well, not the case. Finished No. 1 in the group already, which is great."
You can counter and offset negative images by controlling the images you have in your mind. By visualizing success, you allow successful images to dominate your mind and help you play at your peak.
How to Create Positive Mental Images:
Visualization or mental rehearsal takes practice to master and apply to your game. Before you visualize, write out a brief script based on your learning style – visual or feel-oriented.
And a script is not about seeing yourself play perfect tennis. Sometimes you have to adjust your mindset when you make mistakes.
Your script should help you experience successful points as well as bounce back from losing a game or double-faulting, for example. After you have a script, record it on your phone with background music. You might listen to this prior to matches.
---
"Tennis Confidence: Mental Game Strategies for Tournament Players" is Dr. Cohn's program to help tennis players, coaches, and instructors improve the mental game of tennis is just 8 easy to learn sessions. Tennis Confidence: Mental Game Strategies for Tournament Players Audio and Workbook program is ideal for any junior, collegiate, and tour professional player. Tennis coaches and instructors would also be wise to teach the strategies in "Tennis Confidence 2.0."
Tennis Confidence is a complete mental training program developed Dr. Cohn. You learn the same strategies Dr. Cohn teaches his personal students to help them improve mental toughness and consistency – from managing unrealistic expectations to coping with perfectionism. Read more about Tennis Confidence Program>>