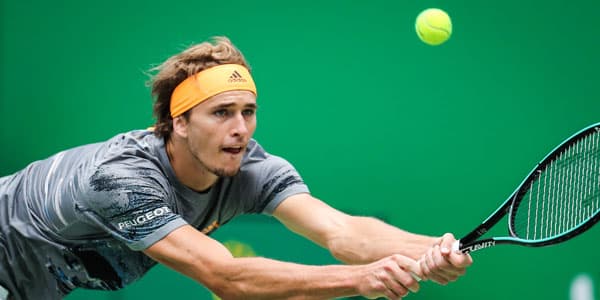 Your Mindset and Match Conditions
Many conditions are not optimal when playing tennis, such as bright sun, excessive heat, swirling winds, high humidity, slippery courts, and poor lighting.
Sometimes, players have a predetermined notion they will not win, "I never play my best when the temperature is above 90 degrees." When you "predict" you will play poorly, you will probably be correct and play poorly.
But do conditions need to be perfect to win?
After all, you are competing against an opponent battling similar, if not the same, conditions.
So what determines the victor when playing under challenging external conditions?
When playing in unfavorable conditions, the winner is usually the player who can withstand the circumstances and focus on the task at hand.
For example, when the weather is stifling hot, both players are battling the same conditions. The heat on one side of the court is the same as the heat on the other side of the court.
Whoever is better mentally equipped to handle the circumstances has a significant advantage in the match.
Mentally tough tennis players are confident in their ability to handle adverse conditions and adjust their game as necessary. In addition, mentally tough players have confidence that their "B" game is sufficient to lead them to victory.
A mentally tough mindset helps players keep grinding and fighting for every point.
When playing in adverse conditions, stay focused on playing each point rather than worrying about circumstances you cannot control. When your mind drifts beyond the white lines on the court, a brief internal pep talk can help you refocus and stay mentally tough.
For example, "My opponent is tired, too. I will keep pushing the pace and wear him out. I got this! Keep grinding."
At the 2023 US Open semifinals, Daniil Medvedev defeated Andrey Rublev, 6-4, 6-3, 6-4, despite what Medvedev called "brutal" conditions. Both players struggled with the heat, with temperatures reaching 93 degrees Fahrenheit.
MEDVEDEV: "The only good thing I see in these conditions is that both suffer. It was tough for both of us. There were some ups and downs, but that is so normal. At the end of the first set, I sort of could not see the ball anymore. I played with sensations. I was like: 'Wow, he can't run anymore,' so I tried to go and make him run and run and run, but he was there all the time. But we were tired all the time. Brutal conditions and super tough to win."
Medvedev's internal dialogue (a mini pep talk) helped him maintain a healthy perspective, overcome his circumstances, and outlast his opponent.
Think of a tennis match as a puzzle that needs to be figured out. Don't allow circumstances to throw you off your game. Keep adapting and adjusting and building your mental toughness.
Ditch your pre-match excuses. Your opponent is competing under the same circumstances. Talk yourself into winning and use the conditions to your advantage and against your opponent.
---
Related Tennis Psychology Articles
*Subscribe to The Tennis Psychology Podcast on iTunes
*Subscribe to The Tennis Psychology Podcast on Spotify
---
Improve Your Mental Game for Tennis
Tennis Confidence 2.0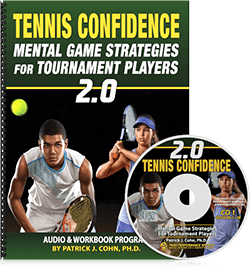 "Tennis Confidence: Mental Game Strategies for Tournament Players" is an audio and workbook program to help tennis players, coaches, and instructors improve the mental game of tennis is just 10 easy to learn sessions.
Tennis Confidence: Mental Game Strategies for Tournament Players Audio and Workbook program is ideal for any junior, collegiate, and tour professional player. Tennis coaches and instructors would also be wise to teach the strategies "Tennis Confidence."
Tennis Confidence is a complete mental training program developed Peak Performance Sports. You learn the same strategies Dr. Cohn teaches his tennis players to help them improve mental toughness and consistency – from managing unrealistic expectations to coping with perfectionism.