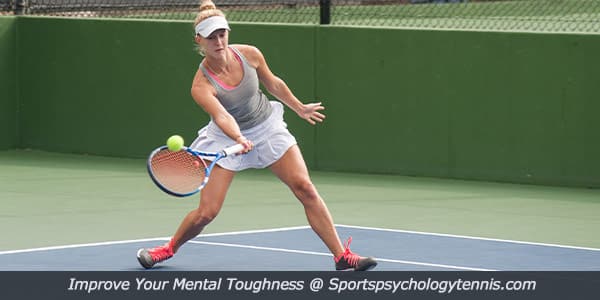 Learn How to Manage Your Nervous Before a Match
How far in advance of a tennis match do you start experiencing nerves? Do your nerves start as soon as you step onto the court to warm-up? Maybe, you become nervous when you arrive at the competition site?
For some tennis players, nerves happen much earlier. Some players become agitated before leaving their house, and some players become anxious the night before a match.
A tennis player left the following question on our Mental Game of Tennis Survey:
"How can I learn to get my nerves under control when a match starts? My nerves start the night before a match and gradually build. By the time I step on the court, I am a mess."
Some tennis players hope their anxiety will dissolve by the start of a tournament. However, if left unchecked, your anxiety will snowball.
Let's look at the root of the issue. Anxiety is the result of seeing an event as a threat. For a tennis player, that threat may be losing by a wide margin, being viewed as not talented, or fearing negative judgments from others.
As your fear grows, so does your anxiety, which will build slowly until the day of the match. By that time, you will feel overwhelmed with fear and unable to focus or overcome mistakes during the match. As your anxiety level rises, your performance level drops, QUICKLY!
When you learn to deal with your nerves as they come, you will keep those nerves within a manageable range.
For example, you could use imagery the night before a tournament to calm your mind and improve your sleep. On the morning of the match, you can try progressive relaxation to keep your muscles loose.
When you arrive at the tournament, you can apply several strategies to regulate your nerves, such as thought management, breath work, or meditation.
Twenty-one-year-old Brandon Nakashima is a rising star in the tennis world. Nakashima made back-to-back ATP finals in July of 2022 and has beaten some of the top names in the game.
Nakashima has steadily improved his ability to manage his nerves and play confidently. At the 2022 San Diego Open, Nakashima dropped only one set in earning his first ATP title.
NAKASHIMA: "Those first two finals definitely taught me a lot, where I was trying to stay focused the night before and the day of, not getting too caught up in all of the situations, talking to a lot of people. There were obviously nerves as well, which is to be expected any time you're playing a final, but I think I handled it pretty well."
Managing nerves is a mental skill. Any tennis player can learn strategies to calm their nerves and improve their game.
However, you must be willing to put in the work to strengthen your mental game and how to respond to competition.
If you become nervous the night before a tournament, then thinking about the upcoming match is counterproductive.
Start by distracting yourself… Engage in enjoyable activities other than tennis to take your mind off the upcoming tournament.
Related Tennis Psychology Articles
*Subscribe to The Tennis Psychology Podcast on iTunes
*Subscribe to The Tennis Psychology Podcast on Spotify
---
My program is ideal for athletes who want great composure or any coach or parent who wants to teach athletes to harness the power of maximum composure.
Here's a peek at some of what you'll learn in The Composed Athlete:
How to model your ideal composed athlete
How to identify the specific mental breakdowns that impede your composure
How to create powerful feelings of composure in just 15 minutes a day
Break through fears and ineffective beliefs that keep you stuck in a comfort zone
How to become a success-driven instead of a fear-driven athlete
How to get beyond self-intimidate and awaken the champion within
Specific mental strategies for letting go of errors and frustration about mistakes
A pregame routine to get yourself into a composed mindset from the get-go.
---