How to Manage Your Nerves in Matches
Do you get nervous before a tennis match?
Well good, you should have some level of excitement prior to playing.
Too many tennis players feel they must be fully relaxed in order to play their best tennis.
But not every tennis player needs to be relaxed…
In fact, when you are buying into I-must-be myth, when you start feeling butterflies in the pit of your stomach you will begin to get nervous about being nervous. This only serves to cause things to get out of control and those butterflies snowball into full-blown anxiety.
In order to play your best, you need to have some level of physiological activation.
The key is to manage these nerves. Managing your nerves is what is referred to as composure.
Composure is not the absence of nerves… Composure is staying calm, focused and in control by regulating your nerves.
Think of it as getting your nerves to work for you or using that nervous energy to fuel your performance. Intensity is necessary and critical to keep you moving forward and playing aggressively during matches.
2017 Wimbledon winner 23 year-old, Garbiñe Muguruza, won the biggest tournament of her life by using her nerves to give her an edge and fuel her game.
Muguruza beat 5-time Wimbledon champion Venus Williams 7-5, 6-0 to take her second Grand Slam title of her young career.
In her post-match interview, the announcer said to Muguruza, "You showed no sign of nerves."
Muguruza responded by admitting she was nervous.
MUGURUZA: "You can say of course I was nervous. I always dreamed to be here. I was composed I guess."
If you read into Muguruza's quote, she doesn't just say she was nervous, Muguruza stated, "Of course I was nervous."
Muguruza had to calm herself and find her composure early in the match after being overly aggressive and hitting the ball long on several occasions.
MUGURUZA: "Maybe I was too hungry and too aggressive at the start, but I wasn't too worried as I thought it was only nerves."
Once Muguruza was able to manage those nerves, she went on to dominate the match.
There is a lot to learn from Muguruza's victory:
No matter what situation you find yourself in (playing a higher seed, competing against a player with more match experience, playing against a player with powerful strokes, being behind in a match, etc.), it is within your control to keep your composure.
Nerves are normal. Every tennis player experiences some degree of nerves so you are not alone in this regard.
Nerves are necessary. You need some level of nerves to compete at a high level. Without some degree of intensity and Adrenalin, your game might not be as focused or uninspired.
Use Your Mind to Stay Composed During a Tennis Match:
First, it is important to not label prematch butterflies as anxiety. Call it excitement and recognize that it is a normal and necessary part of playing your best tennis.
Next, confidence in your game and focusing on what you can control are your friends. Remind yourself of your talents and abilities and focus on what you can control during each point–your pre-point routine and plan for each point.
---
Related Tennis Psychology Articles:
*Subscribe to The Tennis Psychology Podcast on iTunes
*Subscribe to The Tennis Psychology Podcast on Spotify
---
Improve Your Mental Game for Tennis
Tennis Confidence 2.0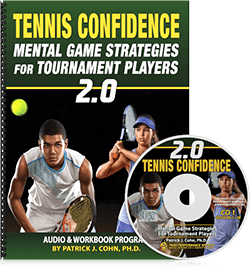 "Tennis Confidence: Mental Game Strategies for Tournament Players" is Dr. Cohn's program to help tennis players, coaches, and instructors improve the mental game of tennis is just 8 easy to learn sessions. Tennis Confidence: Mental Game Strategies for Tournament Players Audio and Workbook program is ideal for any junior, collegiate, and tour professional player. Tennis coaches and instructors would also be wise to teach the strategies in "Tennis Confidence 2.0."
Tennis Confidence is a complete mental training program developed Dr. Cohn. You learn the same strategies Dr. Cohn teaches his personal students to help them improve mental toughness and consistency – from managing unrealistic expectations to coping with perfectionism. 
Read more about Tennis Confidence Program>>