Taking Charge of your Emotions on the Tennis Court
Do you have difficulty controlling your emotions during matches?
Do intense negative emotions lead to "uncontrollable" outbursts and emotional disruptions?
Many tennis players believe emotions are entirely out of their control. In other words, negative emotional outbursts are just a part of who they are.
In our Mental Game of Tennis Needs Survey, a collegiate tennis player left a comment about his difficulty handling emotions during matches:
"It always takes me way too long to calm down once I lose my cool. That causes me to lose games and sometimes matches."
The following experience is common for many players. You were up 3-2 in the first set; then you had a series of bad serves and double faults. Those minor mistakes caused you to lose the first three points in the sixth game. You became so angry with yourself. You felt as if the game was slipping away from you. You started to lose easy points, and you were furious with yourself and never seemed to get back in the match. As your anger grew, you practically gave up.
You allowed your negative emotions to beat you, not just your opponent.
You allowed three mistakes to determine the outcome of the game. Imagine if you managed your emotions after those points and were able to refocus on playing each point. When you manage your emotions, the level of your play and the outcome of a match would be totally different.
Novak Djokovic, the world No. 1, failed to win a medal at the 2020 Tokyo Olympics, losing the bronze medal match to Spain's Pablo Carreño Busta, 6-4, 6-7 (6), 6-3.
Djokovic's negative emotions steadily grew throughout the match as he became more frustrated with his level of play. At one point, Djokovic hurled his racket into the stands, then later destroyed his racket by smashing it into the net post, receiving a verbal warning from the umpire.
DJOKOVIC: "It's part of, I guess, who I am. I don't like doing these things. I'm sorry for sending this kind of message, but we're all human beings, and sometimes it's difficult to control your emotions."
When you say emotional outbursts are a part of who you are, you believe you are powerless to manage your emotions.
Managing emotions may be difficult, but we all deal with a wide variety of emotions. You can regain your power by learning mental strategies and tools to deal with your emotions.
Once you learn and can trust your ability to manage emotions, you no longer become a product of your emotions. You will play better tennis because you have the ability to manage your emotions, so they don't interfere with your performance.
Tip for Being in Charge of your Emotions throughout a Tennis Match:
The first step is convincing yourself that you have the ability to manage your emotions. If you cannot get past this stage, no strategies or tools will help you keep your poise on the court. It will take some time but start challenging your thoughts and beliefs regarding emotional management.
---
Related Tennis Psychology Articles
*Subscribe to The Tennis Psychology Podcast on iTunes
*Subscribe to The Tennis Psychology Podcast on Spotify
---
Improve Your Mental Game for Tennis
Tennis Confidence 2.0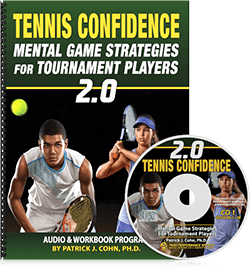 "Tennis Confidence: Mental Game Strategies for Tournament Players" is Dr. Cohn's program to help tennis players, coaches, and instructors improve the mental game of tennis is just 8 easy to learn sessions. Tennis Confidence: Mental Game Strategies for Tournament Players Audio and Workbook program is ideal for any junior, collegiate, and tour professional player. Tennis coaches and instructors would also be wise to teach the strategies in "Tennis Confidence 2.0."
Tennis Confidence is a complete mental training program developed Dr. Cohn. You learn the same strategies Dr. Cohn teaches his personal students to help them improve mental toughness and consistency – from managing unrealistic expectations to coping with perfectionism. 
Read more about Tennis Confidence Program>>