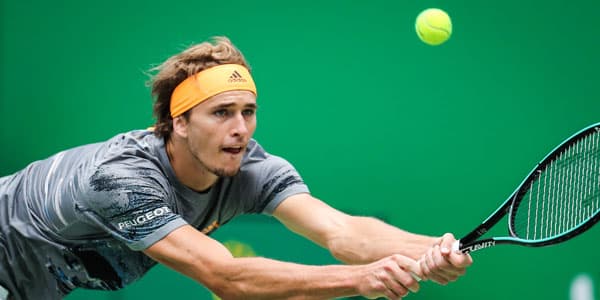 Managing Bad Calls and Rude Opponents
After a questionable line call, how do you respond to an opponent? Do you act out, or can you manage your intense emotions and refocus on the next point?
In the world of tennis, you often see players have emotional outbursts on the court after questionable calls. Reactions include yelling at themselves or their opponents, smashing their racquets, and even berating the umpire.
Emotional outbursts are usually followed by poor play such as double-faulting, losing serve, missing easy returns, not going after balls, or dropping games. Often, tennis players allow negative emotions to affect their play throughout the match.
So, what is the best method to handle intense emotions? Is it better to hold in emotions or get them out of your system?
In our Mental Game of Tennis Needs Survey, we received the following question:
"How can I maintain focus during matches when my opponent or the umpire make questionable calls?"
As you know, one or two points can turn the tide in a match. You can't afford to give up several points because you allowed your emotions to dictate your level of play.
Without a doubt, a questionable line call will affect your emotions, especially when matches are close. It can seem unfair. It may even feel as if the umpire is against you.
When you have battled all game long to put yourself in a position to win, a bad call can cause you to feel angry, frustrated, or cheated. In an instant, intense emotions can overtake your mind at the moment. It is at this point that focusing becomes difficult.
The questionable call doesn't lead to the loss of focus. Instead, the flood of emotions, or your inability to manage emotions at the moment, ruins your focus.
What can you do?
You can Handle your Intense Match Emotions in Three Ways:
*Squelch emotions – Holding in your emotions and focusing on the bad call hurts your game. When you hold in your emotions, your heart beats faster, your breathing quickens, and you cannot focus on the next point.
*Act out – Cursing, yelling, and smashing your racquet worsen the issue. Once again, you will experience a higher heart rate and rapid, shallow breathing.
*Reset – Emotions are not going to subside entirely. The goal is to take the edge off and refocus. In other words, lowering your heart rate and slowing down breathing is critical.
Emotions can be overwhelming in some instances.
For example, No. 3-ranked men's player Alexander Zverev had a major meltdown at the 2022 Mexican Open over a line call. Zvedev received a code violation after yelling and swearing in protest of the call, setting up a match point. The next point was an ace, with Zvedev not even attempting a return ending the match.
After the match, Zvedev went on a rampage slamming his racquet four times against the umpire's chair, almost hitting the umpire.
Former tennis player and two-time Grand Slam finalist Alex Corretja commented on Zvedev's inappropriate emotional outburst:
"I think what happened to [Zvedev] is he totally lost his mind. And it is different. If you go out there and break a racquet. That's not good, of course. The moment where you react and feel your anger, you just destroy the racket because you're not playing well."
"When you are against the umpire, and you hit the racquet against the chair and try to smash the racquet, you are insulting him/her. This is a line which you absolutely cannot cross."
Since emotions play a critical role in performance, knowing how to keep your emotions in check is vital to refocus on the next point.
How to Manage Emotions During Matches
Understand negative emotions will happen. While you cannot prevent emotions, you can apply mental strategies to regain composure and focus.
Remember, intense emotion quickens your heart rate and breathing. Breathing slow and deep will help slow down your physiological response and help you to refocus on the next point.
Also, most players get upset when not meeting their expectations. You want to learn how to let go of strict expectations to help you accept mistakes and bad line calls.
---
Related Tennis Psychology Articles
*Subscribe to The Tennis Psychology Podcast on iTunes
*Subscribe to The Tennis Psychology Podcast on Spotify
---
Improve Your Mental Game for Tennis
Tennis Confidence 2.0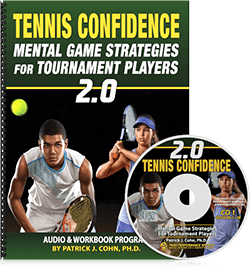 "Tennis Confidence: Mental Game Strategies for Tournament Players" is Dr. Cohn's program to help tennis players, coaches, and instructors improve the mental game of tennis is just 8 easy to learn sessions. Tennis Confidence: Mental Game Strategies for Tournament Players Audio and Workbook program is ideal for any junior, collegiate, and tour professional player. Tennis coaches and instructors would also be wise to teach the strategies in "Tennis Confidence 2.0."
Tennis Confidence is a complete mental training program developed Dr. Cohn. You learn the same strategies Dr. Cohn teaches his personal students to help them improve mental toughness and consistency – from managing unrealistic expectations to coping with perfectionism. 
Read more about Tennis Confidence Program>>