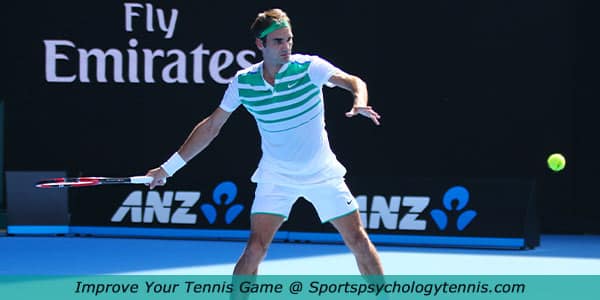 Having a Consistent Game Mindset
How often do you under perform when playing a lower-ranked opponent?
Playing poorly against lower-ranked opponents is a frustrating phenomenon for many players. An unexpected loss can be difficult to process, "How in the world did I lose that match? I have never lost to that player before."
Many times, losing to a lower-ranked opponent is outside of your control, for example
Your game may be off due to an injury or fatigue.
Your opponent may be on top of their game or made significant improvements in their game.
Bad line calls or unfavorable weather conditions can also go against you in matches.
You might be nervous about losing to a player you think you should beat.
Other times, high-ranked players lose because they take their opponent lightly. While you cannot control everything, how you approach a match is 100 percent within your control.
In our Mental Game of Tennis Survey, we received the following from Ashley B.:

"I keep losing to lower-ranked opponents. I know I should easily beat some players, but somehow I fall behind early and never get back into the match? What am I doing wrong?"
No matter how talented you are, no win is guaranteed. You should never approach a match thinking "this is going to be an easy win." When you expect winning with ease, confidence often turns being lackadaisical.
With this mindset, you may not go after the ball as aggressively. You don't serve with the same intensity. You have the feeling you can turn it on at any time. You do not play with an edge. You are too relaxed. After losing a couple of sets, you can't seem to find your rhythm, and the match gets away from you.
Confidence is the belief in your abilities. Expectation is thinking you should win the match because you think you are better than another player.
Australian World No. 1 Ashley Barty has been gearing up for the 2022 Australian Open. Barty's goal is to win a major in front of her home fans.
BARTY: "My focus is now on the Australian summer and doing everything I can to win the Australian Open. I can't wait to play at home again."
Despite being the top-ranked player and playing in her homeland, Barty understands she must work for the title.
BARTY: "I have been very close before at the Australian Open, and this preparation will be no different. There is no feeling of entitlement that you deserve to win it. You have to earn that title."
In tennis, nothing is handed to you. You must step on the court and win out. While you may not win every tennis match, you can only play your best if you maintain the same competitive mindset every match you play.
Maintaining Intensity on the Court
Consistent play requires that you:
Train for every match with the same intensity.
Prepare for every match with the same diligence.
Enter every match with the same competitive mindset.
Compete for every point with the same amount of high effort.
---
Related Tennis Psychology Articles
*Subscribe to The Tennis Psychology Podcast on iTunes
*Subscribe to The Tennis Psychology Podcast on Spotify
---
Improve Your Mental Game for Tennis
Tennis Confidence 2.0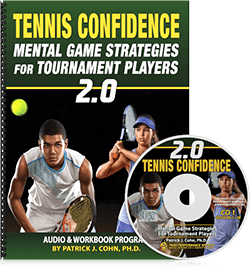 "Tennis Confidence: Mental Game Strategies for Tournament Players" is Dr. Cohn's program to help tennis players, coaches, and instructors improve the mental game of tennis is just 8 easy to learn sessions. Tennis Confidence: Mental Game Strategies for Tournament Players Audio and Workbook program is ideal for any junior, collegiate, and tour professional player. Tennis coaches and instructors would also be wise to teach the strategies in "Tennis Confidence 2.0."
Tennis Confidence is a complete mental training program developed Dr. Cohn. You learn the same strategies Dr. Cohn teaches his personal students to help them improve mental toughness and consistency – from managing unrealistic expectations to coping with perfectionism. 
Read more about Tennis Confidence Program>>