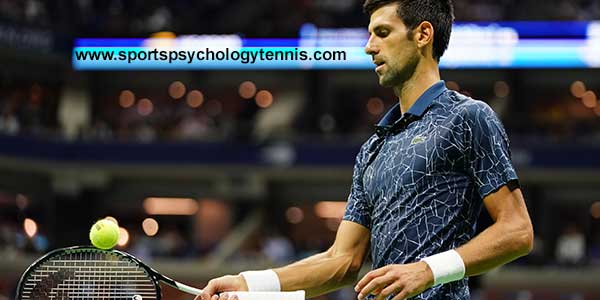 Mindset When Playing a Dominant Tennis Player
Do you have a negative or fearful mindset and believe you will lose in straight sets and be embarrassed during the match?
Or do you have a positive mindset and look forward to the challenge and possible upset?
Your mindset heading into a match or tournament shapes your thoughts and emotions, influencing your level of play.
In our Mental Game of Tennis Survey, a D-III collegiate tennis player sent us the following question?
"How can I stay mentally tough against higher-ranked opponents?"
Engaging in a "I-can't-win" mindset impedes performance dramatically. Taking the court, you are already intimidated by "who" you are playing. You are focused on their power, the speed of their serve, their accuracy, the ground they cover.
In your mind, you see your opponent serving aces and returning your serves for winners. You think of only bad outcomes. Your heart pounds, your palms are sweaty. You find it difficult to focus, see the ball clearly, and react quickly.
Your game is off due to a mere prediction of what might happen. With a negative mindset, your fears become your reality.
The Upset Mindset
An "upset-time" mindset is when you approach a match with a "go for it and let's see what happens" mentality. You will still be slightly nervous, but that should be interpreted as positive and not a sign that you will get crushed.
A little nervousness heading into a match is helpful. A slight amount of nervous energy can help you focus more intently and energize your play. You will play on the balls of your feet, react quicker, and more easily chase down balls to return.
Playing against tough competition makes you a stronger player if you can grind it out and not give in. Playing against stronger players can help you raise your game and become more confident when you hang tough in a match.
Playing against highly ranked opponents can motivate you to keep pushing to beat future opponents and climb the rankings.
Novak Djokovic Playing Against Legends
Djokovic tied Roger Federer and Rafael Nadal after winning the 2021 Wimbledon and claiming his 20th Grand Slam.
In his post-match interview, Djokovic explained that competing against stronger players pushed him mentally and physically and motivated him to pursue success.
DJOKOVIC: "I have to pay a great tribute to Rafa [Nadal] and Roger [Federer]. They are legends of our sport, and they are the two most important players that I've ever faced in my career. They are, I think, the reason that I am where I am today. They have helped me realize what I need to do in order to improve, get stronger mentally, physically, tactically."
Playing against tough competition can push you to greater heights and increase your mental toughness.
Each match you play should be viewed through as an opportunity to test your skills and play at a higher level.
Mindset for Playing Better Tennis Players:
The following two questions can help you set your mindset for the match and direct your focus during the challenging moments.
What mental approach will benefit me the most during this match?
How do I want to respond during tough moments in this match?
How will I grind it out and keep battling?
You never know what can happen to the player across the net. Can you tire out or frustrate your opponent by being a backboard? You can't beat better players until you think you have a chance to beat them.
---
Related Tennis Psychology Articles
*Subscribe to The Tennis Psychology Podcast on iTunes
*Subscribe to The Tennis Psychology Podcast on Spotify
---
Improve Your Mental Game for Tennis
Tennis Confidence 2.0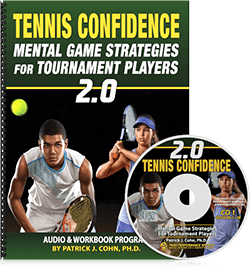 "Tennis Confidence: Mental Game Strategies for Tournament Players" is Dr. Cohn's program to help tennis players, coaches, and instructors improve the mental game of tennis is just 8 easy to learn sessions. Tennis Confidence: Mental Game Strategies for Tournament Players Audio and Workbook program is ideal for any junior, collegiate, and tour professional player. Tennis coaches and instructors would also be wise to teach the strategies in "Tennis Confidence 2.0."
Tennis Confidence is a complete mental training program developed Dr. Cohn. You learn the same strategies Dr. Cohn teaches his personal students to help them improve mental toughness and consistency – from managing unrealistic expectations to coping with perfectionism. 
Read more about Tennis Confidence Program>>