Staying Confident Playing Higher Ranked Opponents
Do you get anxious when going up against top ranked opponents? Does your anxiety overwhelm you and cause you to play well below your capabilities?
When playing against higher ranked opponents, you might notice several issues at play that affect your performance:
(You can remember these factors with the acronym A.C.E.)
1. Attitude – Your view of the upcoming match means everything.
Do you think you are going to lose before the match even starts or are you excited to see how you match up against top opponents? If you view the match as a challenge, rather than a guaranteed loss, you will fight for points and raise your game up a notch. Who knows… you may even pull off the upset because nothing is ever set in stone or predetermined.
2. Confidence – Do you feel you have prepared well and have the skills necessary to play your best tennis no matter the opponent?
Ultimately, how you play is up to you. When you focus on your abilities and skill set, your best tennis is at your fingertips.
3. Emotions – Emotions are tied into your attitude and confidence level.
Prior to any match, you want to have the right level of activation that helps give your energy and focus. Some players get excited for the challenge of playing top players while other players get anxious.
Your emotions will dictate how you play so it is necessary to keep these emotions in check if you are to play at your peak.
In fact, some top-ranked opponents may overlook you and be emotionally flat at the start of the match. If you are in an optimal emotional zone, you can pounce on your opponent early if they take the match for granted.
John Millman loves challenging himself against top players.
Millman, ranked 128, is looking to break into the top 100 this season. In order to accomplish his goal, Millman will need to beat many higher-ranked opponents on a consistent basis.
At the 2018 Brisbane International, Millman played resilient tennis and revealed his approach to playing higher ranked opponents.
MILLMAN: "I always like to test myself against the best players in the world. And sometimes it's challenging, as I found out against Rafa last year at Wimbledon [losing 1-6,3-6, 2-6], but sometimes it can be very rewarding just to kind of see where you are against them."
Millman approaches matches against higher-ranked opponents with a very particular mindset:
1. Nothing to Lose – When you play higher-ranked opponents, you really have nothing to lose. With nothing to lose, you can hit the court and play freely and aggressively.
2. Getting Comfortable & Confident – The more you play in high level tournaments against tough players, you get comfortable in that environment. When you are relaxed, you are more apt to go for shots and, with each win, your confidence grows.
3. Any Given Day – On any given day, the results may turn out in your favor but only if you fight for every point and move forward from previous mistakes.
The right mindset is always the best bet!
Competing against Top-Ranked Opponents:
1. Choose your attitude wisely. Look at each match as an opportunity to lift your game higher.
2. Play confidently. Focus on your strengths and talents, not opponents' strengths.
3. Keep your emotions in check. Don't allow the moment to overwhelm you. Stay relaxed and loose.
---
Related Tennis Psychology Articles:
*Subscribe to The Tennis Psychology Podcast on iTunes
*Subscribe to The Tennis Psychology Podcast on Spotify
---
Improve Your Mental Game for Tennis
Tennis Confidence 2.0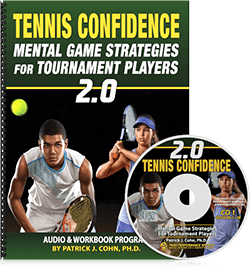 "Tennis Confidence: Mental Game Strategies for Tournament Players" is Dr. Cohn's program to help tennis players, coaches, and instructors improve the mental game of tennis is just 8 easy to learn sessions. Tennis Confidence: Mental Game Strategies for Tournament Players Audio and Workbook program is ideal for any junior, collegiate, and tour professional player. Tennis coaches and instructors would also be wise to teach the strategies in "Tennis Confidence 2.0."
Tennis Confidence is a complete mental training program developed Dr. Cohn. You learn the same strategies Dr. Cohn teaches his personal students to help them improve mental toughness and consistency – from managing unrealistic expectations to coping with perfectionism. 
Read more about Tennis Confidence Program>>