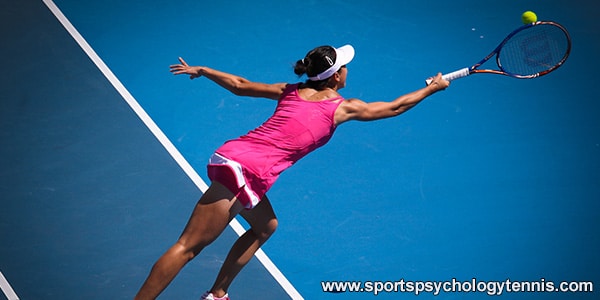 Hit the Re-Set Button and Re-focus for your Next Match
After a tennis match where you did not play your best, do you expect similar results the next time you play? Or can you hit the reset button, re-focus and play up to your ability?
The past can be difficult for some tennis players to overcome. Since your last match is the last memory in your mind, you may predict your next performance to be like the last.
Recently, we received a question from a tennis player regarding the difficulty of overcoming past matches:
"Every time I played bad in matches or I was dominated by an opponent, I can't get it out of my head. It affects my practices and my next matches. It takes me so long to recover that I become even more frustrated. How can I recover after a bad match and play like I know I can play next time?"
You want to learn how to refocus after bad matches–a mental skill that will serve you well.
When you relive all the mistakes you made in past matches, those images interfere with improving skills in practice and performing at your peak.
Playing mental reruns imprint negative images in your mind.
When you replay negative images, you are rehearsing negative outcomes for future performances. Those rehearsed images prepare you for failure. When you are clouded by negative images and emotions, focusing in the present is impossible.
Getting over the past is a matter of hitting the reset button. Resetting or re-focusing does not imply you deny the past match. Resetting and re-focusing are the conscious acknowledgements that the past does not mandate future results. When you hit the reset button you can put your full preparation and focus into your next match.
In the 2021 Internazionali BNL d'Italia, Iga Swiatek struggled to win her Round of 16 match against Barbora Krejcikova 3-6, 7-6(5), 7-5. In the first set, Swiatek hit 25 unforced errors.
After the match, Swiatek talked about the way she felt mentally.
SWIATEK: "I just had a tough day mentally. It was hard for me to be positive. I'm really happy I could win that, I could turn the score around. Usually in this situation I was the kind of person that was kind of giving up mentally. Today, even though I wasn't feeling completely perfect on court, I had some issues as well, I could manage with everything and just win points."
Swiatek could have easily packed it in and thought, "I don't have it this tournament. I barely won my Round of 16 match-up. I will get back on track in the next tournament."
Instead, Swiatek let the match go and hit the reset button for her next match.
Swiatek's ability to refocus and mentally prepare for the next match helped her win the quarterfinal in straight sets, the semifinal in straight sets and finished the tournament winning finals over Karolina Pliskova 6-0,6-0.
The past does not predict the future. When you learn the mental skill of refocusing, you will be able to let go of the past match and be mentally prepared to play your best tennis the next match you play.
Hitting the Reset Button for your Next Match:
Keep in mind that the past does not dictate your performance in the future–unless you let it!
Just like a win doesn't guarantee a win in the next match, a loss doesn't dictate your performance in the next match.
In your next week of practice, think about the 1 percent rule. Focus on how you will be 1 percent better each day so you go into your next match with confidence in your game.
---
Related Tennis Psychology Articles:
---
Improve Your Mental Game for Tennis
Tennis Confidence 2.0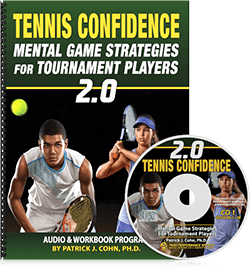 "Tennis Confidence: Mental Game Strategies for Tournament Players" is Dr. Cohn's program to help tennis players, coaches, and instructors improve the mental game of tennis is just 8 easy to learn sessions. Tennis Confidence: Mental Game Strategies for Tournament Players Audio and Workbook program is ideal for any junior, collegiate, and tour professional player. Tennis coaches and instructors would also be wise to teach the strategies in "Tennis Confidence 2.0."
Tennis Confidence is a complete mental training program developed Dr. Cohn. You learn the same strategies Dr. Cohn teaches his personal students to help them improve mental toughness and consistency – from managing unrealistic expectations to coping with perfectionism. 
Read more about Tennis Confidence Program>>