What is Your Mindset For New Matches?
What is your mindset to a new tournament or even a new match?
Does your approach change if you won your last match? How about if you lost your last match, is your approach different?
A new match is a brand new opportunity to excel, another unique challenge and a chance to start over.
Unfortunately, that is not usually the mental approach for many tennis players following a loss.
Many tennis players carry the last result to the present match. These tennis players become mentally weighed down by previous results.
Think back to a time when you played a bad match…
Did you have thoughts that those disastrous results would follow you to the next match? Did you have that 'oh-no' feeling prior to the match?
The same is true for a win… Have you ever gone into a match after a dominant win over-confident and under-prepared because you just expected the same results as yesterday?
Your mental approach is everything because that is the first thing you carry into the match.
It is difficult to flip the switch midway through the tournament.
So, your mental approach is just as important as your tennis racquet or tennis shoes.
At the 2017 WTA Elite Trophy tournament, Julia Goerges defeated Anastasija Sevastova in straight sets 6-3, 6-3, then went on the beat CoCo Vandeweghe 7-5, 6-1 for the title.
What is impressive was Goerges' mental approach heading into the finals. Despite her 8th consecutive win, her fifth final and a dominant win in the semifinals, Goerges saw the final match as a brand new match.
GOERGES: "Every match starts from zero, and I know it's going to be my last match of the season, so I'll just put everything in what I have and trying to enjoy it, too… But I'm just trying to really go for it and play my game and enjoy it at the same time. It doesn't matter who I'm going to play, I just focus on myself and my game, and I think that's more important than just to focus on your opponent."
What a great mental approach… Every match does start from zero. The match begins even, but you can start the match with a big advantage if you have the right mental approach.
When you start with the mental approach that each match is a brand new challenge:
You prepare fully, mentally and physically.
You focus on getting your body moving and executing good strokes during warm-up.
You centered yourself in the present moment.
You enter the match with the right amount of confidence.
Match Starts and the Right Mental Approach:
The best mental approach is the 'Start from Zero' approach. This is a present moment mental approach with no "monkey on the back" from the past.
Before leaving the locker room and stepping foot on the court, say good-bye to the past match and tell yourself, "New match, new opportunity."
You can't choose your opponent, but you can choose how to think on the court. Get all my strategies for mental toughness in tennis:
---
Related Tennis Psychology Articles:
*Subscribe to The Tennis Psychology Podcast on iTunes
*Subscribe to The Tennis Psychology Podcast on Spotify
---
Improve Your Mental Game for Tennis
Tennis Confidence 2.0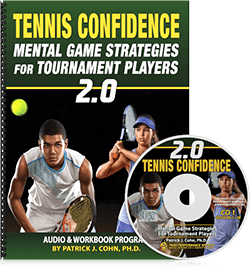 "Tennis Confidence: Mental Game Strategies for Tournament Players" is Dr. Cohn's program to help tennis players, coaches, and instructors improve the mental game of tennis is just 8 easy to learn sessions. Tennis Confidence: Mental Game Strategies for Tournament Players Audio and Workbook program is ideal for any junior, collegiate, and tour professional player. Tennis coaches and instructors would also be wise to teach the strategies in "Tennis Confidence 2.0."
Tennis Confidence is a complete mental training program developed Dr. Cohn. You learn the same strategies Dr. Cohn teaches his personal students to help them improve mental toughness and consistency – from managing unrealistic expectations to coping with perfectionism. 
Read more about Tennis Confidence Program>>