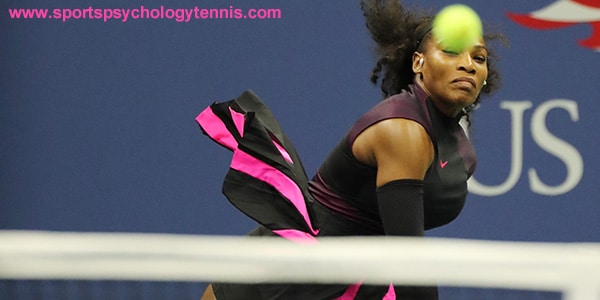 Venus Williams beat Elena Dementieva in three sets (6-4, 4-6. 6-3) at the Sony Ericsson Championships. Do you think your tennis mindset is important to tennis success? Williams' does… Her victory was a result of her sound tennis mental toughness and positive mindset.
No one can be perfect in tennis and you have to learn how to cope with mistakes and unforced errors. Williams' ability to bounce back after errors helped her come out as a winner. Williams said that matches don't always go as planned and you can't dwell on the negative:
"No, you can't think about [not holding your serve] during the match. Because sometimes it doesn't go how you plan. There are shots and plays that aren't as you plan. If you get down on yourself, there goes the match. So I don't really dwell on, okay, it hasn't gone the way I want. How do I make it go the way I want?"
~Venus Williams
Venus Williams understands that a tennis match doesn't go exactly as planned. You can't always hold serve or have the perfect mistake-free match. Top tour pros, such as Williams, are able to accept mistakes and move on. Dwelling on mistakes, a weak mindset for tennis, can translate in a loss.
Williams doesn't like to think about mistakes. She committed 10 double faults in the match, but did not let it affect her mindset or confidence to play points….
"Oh, yeah. Yeah, I think it would have been a little bit easier without the double faults I don't think too hard about my mistakes. I find that never works. I just always tell myself I know how to play tennis, and I move with that. I don't focus and dwell on stuff, because it doesn't work. I just move forward."
~Venus Williams
I find that thinking about your mistakes can lead to over-analyzing. You begin to over coach yourself by trying to fix your strokes, which causes players to tighten up in a match. Williams' mindset about mistakes allows her to stay in the present and focus on the next point.
Williams talked about her mindset about having to play a third set. She used positive self-talk to turn the match around:
"I think I was rushing a little too much. Then I tell myself, 'hey, it's just another extra half hour. Why don't you come out with the win instead of a loss?' So I say all kind of things to myself on the court. Really just being motivated to do whatever it took because she was doing whatever it took."
~Venus Williams
Here's your tennis mental toughness tip for today: Players with a positive mindset in tennis see challenges as an opportunity for success rather than defeat. Venus felt challenged about having to play a third set, and used it to spur herself to come out on top. Venus Williams' tennis mental toughness helps her bounce back after mistakes, trust her skills and focus on success.