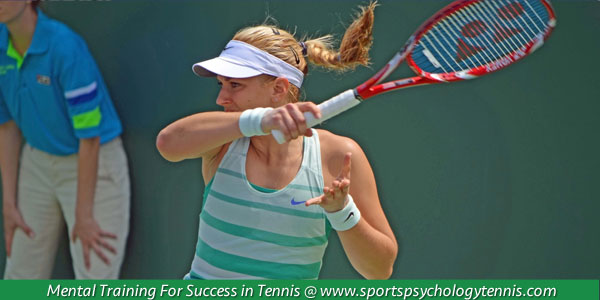 Training Your Mind to Respond to Adversity
What do you do when you are having a bad practice and become frustrated?
When you are struggling in practice, do you just go through the motions or do you keep working hard?
Most tennis players feel they have the luxury of packing it in, after all, it's only practice.
What if I told you that your response to frustration in practice has a great impact on your performance in competitive matches?
In our Mental Game of Tennis Needs Survey, a tennis player sent us the following question:
"Why do I do so well in practice but can't perform the same way in matches? I become so frustrated when I fall behind early in a match that I just fall apart."
Think about some of your best practices. You nailed your serve with great pace, placement, and spin. Your coach served you up balls that you ripped down the line. Things were going great. You felt good, confident, and practically invincible.
But there is little pressure in practice. How often do competitive matches unfold in that manner?
Let's look at a different practice scenario. When you are having a bad practice and are frustrated, you may dismiss the session, "It's just practice."
When you keep hitting the ball long, it's frustrating but you think, "I will just get back on track tomorrow."
When you feel tired in the beginning of practice, you will excuse your play and say, "I need some sleep tonight. I will be well rested tomorrow."
You may feel frustrated at your play and think, "It's only one practice."
In these scenarios, you excuse your play, pack it in, and don't go after balls. You are not focused and don't fight to play better.
If you don't fight to rebound when you are frustrated in practice, how will you be able to bounce back in competitive matches under similar circumstances?
When you give in to frustration during practice, you are not training your mind to respond positively when the pressure is ratcheted up a notch in competitive matches.
When things are frustrating in practice, how you respond will be the same way you respond when it matters most.
"Frustrated" is how Canadian Genie Bouchard described her loss to Spain's Sara Sorribes Tormo in straight sets in the final of the 2021 Guadalajara Open in Mexico.
Bouchard hasn't won a WTA title since 2014 and her recent loss marked her seventh defeat in eight appearances in WTA finals.
The frustrating aspect was losing four straight games in the second set after being up 5-3, ultimately losing 6-2, 7-5 to her rival.
BOUCHARD: "That was super frustrating. I felt like I was playing 12-and-under tennis at some points there. I don't know. She was just out-grinding me. I shouldn't have lost four games in a row like that at the end. Sometimes I didn't know what to do."
Not knowing "what to do" in frustrating moments is a direct result of your responses in practices.
Training your mind to respond to adversity is critical to adjusting mentally during matches.
How to Cope with Frustration:
When you're not doing well in practice, ask yourself one question, "How would I want to respond if this was a competitive match?"
Frustration is often a reaction to not reaching an expectation you have or a goal. And it can change your game like Bouchard…
You have to let go of how the match SHOULD go or how you SHOULD hit your shots, and instead focus on your tactics to turn the match around. Always step on the court with Plan A, B, and C so you can adjust when plan A is not working.
---
Related Articles for Tennis Mental Game:
---
"Tennis Confidence: Mental Game Strategies for Tournament Players" is Dr. Cohn's program to help tennis players, coaches, and instructors improve the mental game of tennis is just 8 easy to learn sessions. Tennis Confidence: Mental Game Strategies for Tournament Players Audio and Workbook program is ideal for any junior, collegiate, and tour professional player. Tennis coaches and instructors would also be wise to teach the strategies in "Tennis Confidence 2.0."
Tennis Confidence is a complete mental training program developed Dr. Cohn. You learn the same strategies Dr. Cohn teaches his personal students to help them improve mental toughness and consistency – from managing unrealistic expectations to coping with perfectionism. Read more about Tennis Confidence Program