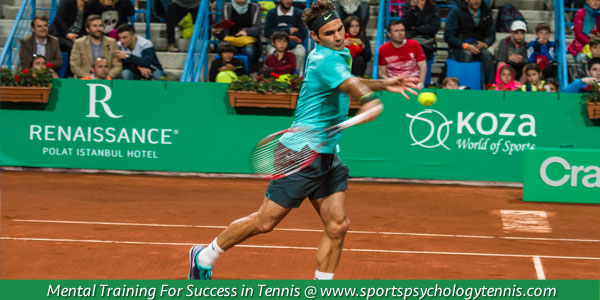 How Can Federer Improve His Mental Game?
What's a better mindset for Federer that will help him win again against Nadal after his demoralizing, heartfelt loses in the Australian Open?
I'm revisiting the psychology of tennis lessons we learned from the Australian Open finals. The momentum shifts of a final match, such as Federer and Nadal in the 2009 Australian Open, are interesting to watch from a mental game perspective.
As a mental game expert, I try to peer into the psychology and momentum of a match.
If you have read my articles at Sports Psychology for Tennis, you know I think Federer defeated himself with some faulty thinking in the fifth set during the Australian Open finals.
After the match, he said the match should not have gone five sets. He also thinks that the better player does not always win because it comes down to momentum and who has the momentum at the end of the match. True, but:
Can thinking his opponent has stole all the momentum be enough to cause him to tighten up in the final set?
You could see Federer tighten up in the fifth set and make more mental errors.
Federer had 14 unforced errors in the final set compared to Nadal's two unforced errors.
Did the pressure to win cause Federer to tighten up and make more errors in the final set?
Yes, I think Federer choked the match away when Nadal grabbed some momentum in the match.
Here's my mental game of tennis summary outlining why Nadal beat Federer (or why Federer beat himself!):
Federer has had a tough history with Nadal during the last year and it plays on his mind.
Federer thinks he has a big disadvantage against Nadal's lefty serve. Translation: I can't break him when I really need to get a break.
Federer thinks the best player does not always win if it goes to five sets. Translation: Even if I'm a better tennis player, there's a chance I can't win this.
Others expect Federer to beat Nadal. Translation: This causes more pressure for Federer.
Federer thought (assumption on my part) he had to hit every first serve perfectly and score aces. This resulted in a first serve percentage of only 51% and six double-faults just at the wrong times. Translation: Going for winners on the first serve caused him to lose service games.
I do think Federer beat himself, especially in the final set. But I don't want to take anything away from Nadal's heroic performance. He played a great tactical and mentally tough match. Nadal could have folded earlier in the match when Federer had all the momentum, but he held strong.
How can Federer improve his mindset or mental game for future success against Nadal?
1. Focus on the future and not the past. Nadal leads Federer 13-6 head to head from 2004 to 2009. From 2008 to present, Nadal has won all five meetings. The last match Federer won was the semifinals of the 2007 Tennis Masters Cup. Federer has it in his head that he can't beat Nadal no matter how good he plays. He must approach each match without the history being a monkey on his back.
2. Practice more against lefty players. Federer thinks he has a big disadvantage against lefty players when it comes to his return of serve. He need to practice more with lefty players if that's the case and find a way to turn this disadvantage into an advantage in his mind.
3. Play a functional match instead of a perfect looking match. Federer has perfect-looking, flowing groundstrokes, but perfect stokes does not win matches. Good (functional) strokes, good tactics, and mental toughness wins matches. He should play the shots that get the job done in the match rather than stick to what he thinks looks pretty or feels perfect to him.
4. Stop worrying about what others expect. Players sometimes adopt others expectations as their own and then feel pressure to play up to others expectations. This may be the case with Federer. I think he worries too much about what the public expects of him because of his number one status for several years.
5. Win with your best shots, not winners on every serve. This concept is similar to playing functional tennis instead of perfect tennis. When players think they must hit winners on every serve (be perfect) to win matches, this causes them to tighten up and over control their performance. I think a better goal for Federer would be to improve his first serve percentage against Nadal instead or try to hit aces every service.
One note here: I based this article on what I can observe in matches and what I read in the post-match interviews. If I could talk to Roger, I'm certain I would have a longer or more accurate picture of how his mental game of tennis may be holding him back and what changes would help.
What changes in Roger's mental game would you suggest?
Your comments are welcome.
---
Learn Proven Mental Game Strategies To Perform Your Best On The Court!
Are you (or your players) performing up to your ability in competition?
Do you bring your best and most confident game to matches?
Successful tennis players have learned how to perform with ultimate confidence in tournaments.
If you are ready to improve your mental toughness and perform with ultimate self-confidence in matches, Tennis Confidence: Mental Toughness For Tournament Players can help you do this!
Use Tennis Confidence to help boost your mental toughness in tennis and discover powerful and proven mental game strategies that have helped professional athletes win!
Tennis Confidence: Mental Toughness For Tournament Players
What are mental game customers saying?
"We are amazed at how much 'The Confident Athlete' program has helped my niece play her best tennis during matches. She literally made it to the farthest round of a tournament (semifinals) after finishing the CDs/workbook. We are going to do all five in the series."
~Jason Bourguignon, Uncle
---
Download Our Free Tennis Psychology Report!

Discover if you are making one or more of these "costly" unforced mental game errors during matches!
Download our free Tennis Psychology Report:
Six Unforced 'Mental Game' Errors Tennis Players Make Between Points
You'll discover:
How your mind can be your best or worst asset on the court.
If you are using your mind effectively between points.
One strategy that can help you let of go the last point.
The top mental game skills you need to master to boost your confidence and performance between points.
Click here to download your FREE report today: Six Unforced 'Mental Game' Errors Tennis Players Make Between Points
What are tennis players saying?
"Dr. Cohn, one of my goals is to become a world-class-coach, There are a few coaches from the US who inspired me the most-John Wooden, Son Shula, and Pat Riley. After working with you, I now also list your name among the most influential coaches in my field!"
~Franz
---
Boost Your Self-Confidence And Focus With Expert Mental Game Coaching!
Master mental game coach Dr. Patrick Cohn can help you overcome your mental game issues with personal coaching.
You can work with Dr. Patrick Cohn himself in Orlando, Florida or via Skype, FaceTime, or telephone. Call us toll free at 888-742-7225 or contact us for more information about the different coaching programs we offer!
What are our mental coaching students saying?
"Maggie had such a great weekend. As always, after she works with you she just seems more grounded and focused. She's less likely to look around and get distracted during her match. She's more focused on one point at a time. Also, as a parent, I've learned to encourage her process goals and not outcomes. Consequently, she played well and won her first doubles match, upsetting a seeded team in a really really close match!"
~Katherine Johnson Cannata, Maggie's mother