Boosting Focus to Get in The Zone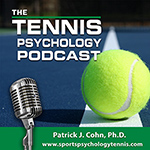 Many tennis players want to improve their focus and achieve peak performance.
In this week's tennis psychology session, you'll learn:
How to boost your focus and get in the zone more often.
Dr. Cohn teaches you the mental strategies to improve your focus on match day. You'll learn how to focus on the process instead of the outcome of the match.
The Tennis Psychology Podcast by Dr. Patrick Cohn at Sports Psychology for Tennis, is a mental game of tennis expert and helps tournament players, tennis coaches and parents improve confidence, focus, and composure using sports psychology strategies.
Use the audio player to listen to The Tennis Psychology Podcast or download the file to your computer below:
*Download The Tennis Psychology Podcast #8  (right click and "save as" to your computer)

Subscribe to The Tennis Psychology Podcast via iTunes
*Submit your mental game of tennis question to Dr. Cohn at Peak Performance Sports
---
Learn Proven Mental Game Strategies To Perform Your Best On The Court!
Are you (or your players) performing up to your ability in competition?
Do you bring your best and most confident game to matches?
Successful tennis players have learned how to perform with ultimate confidence in tournaments.
If you are ready to improve your mental toughness and perform with ultimate self-confidence in matches, Tennis Confidence: Mental Toughness For Tournament Players can help you do this!
Use Tennis Confidence to help boost your mental toughness in tennis and discover powerful and proven mental game strategies that have helped professional athletes win!
Tennis Confidence: Mental Toughness For Tournament Players
What are mental game customers saying?
"We are amazed at how much 'The Confident Athlete' program has helped my niece play her best tennis during matches. She literally made it to the farthest round of a tournament (semifinals) after finishing the CDs/workbook. We are going to do all five in the series."
~Jason Bourguignon, Uncle
---
Download Our Free Tennis Psychology Report!

Discover if you are making one or more of these "costly" unforced mental game errors during matches!
Download our free Tennis Psychology Report:
Six Unforced 'Mental Game' Errors Tennis Players Make Between Points
You'll discover:
How your mind can be your best or worst asset on the court.
If you are using your mind effectively between points.
One strategy that can help you let of go the last point.
The top mental game skills you need to master to boost your confidence and performance between points.
Click here to download your FREE report today: Six Unforced 'Mental Game' Errors Tennis Players Make Between Points
What are tennis players saying?
"On behalf of all of our coaches who attended the 2004 ITA Coaches Convention, I would like to thank you for serving as a featured clinician. I know that the coaches felt it was both enjoyable and informative. We greatly appreciate your taking the time to prepare and present such an outstanding clinic for the benefit of our coaches."
~Nancy Breo, ITA Convention
---
Boost Your Self-Confidence And Focus With Expert Mental Game Coaching!
Master mental game coach Dr. Patrick Cohn can help you overcome your mental game issues with personal coaching.
You can work with Dr. Patrick Cohn himself in Orlando, Florida or via Skype, FaceTime, or telephone. Call us toll free at 888-742-7225 or contact us for more information about the different coaching programs we offer!
What are our mental coaching students saying?
"Maggie had such a great weekend. As always, after she works with you she just seems more grounded and focused. She's less likely to look around and get distracted during her match. She's more focused on one point at a time. Also, as a parent, I've learned to encourage her process goals and not outcomes. Consequently, she played well and won her first doubles match, upsetting a seeded team in a really really close match!"
~Katherine Johnson Cannata, Maggie's mother