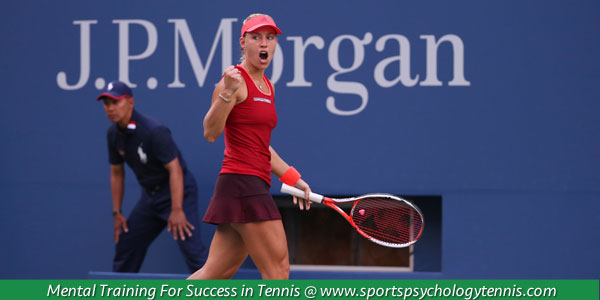 Improving Your Mental Game
Victoria Azarenka won her first WTA singles title beating Marion Bartoli in straight sets at the Brisbane International tournament. An improved mental game of tennis helps her earn first victory.
Azarenka reached four finals in her career, all of which she lost. However, Azarenka was able to bounce back after her losses:
"Everybody says the third time's the charm but for me it is the fifth one — I'm just glad I got it."
What allowed Azarenka to break through and win a final?
Azarenka's positive mindset leads to her tournament success. She didn't focus too much on the occasion, being in the final of a tournament.
"I wasn't thinking I was playing a final. I was playing a regular match, regular points and felt motivated throughout the whole match. That's what helped me to finish it."
Some tennis players may feel the pressure to win their first event in the middle of the match. Most first-time winners protect their lead, play defensively, or try too hard. Azarenka viewed the final just like any other match.
This mindset allowed her stay in the moment, focus on her own game and not get distracted by the excitement of the event.
Azarenka said:
"The way I think on the court is very different than the way I was before. I go and play every point no matter what happens and that's what's helped me a lot."
Many players tend to think negatively after making mistakes and lose confidence quickly. Negative thinking does not help your performance. You may beat yourself up, become frustrated or give up before the match is over.
Azarenka learned to think more positively. She learned to play every point as if it was the first point of the match.
Here's your tennis psychology tip for today
You'll be in position to win your first big match at some time. Be mentally ready to handle the challenge. Anticipate how you will feel in this situation and what you must focus on to succeed.
---
Learn Proven Mental Game Strategies To Perform Your Best On The Court!
Are you (or your players) performing up to your ability in competition?
Do you bring your best and most confident game to matches?
Successful tennis players have learned how to perform with ultimate confidence in tournaments.
If you are ready to improve your mental toughness and perform with ultimate self-confidence in matches, Tennis Confidence: Mental Toughness For Tournament Players can help you do this!
Use Tennis Confidence to help boost your mental toughness in tennis and discover powerful and proven mental game strategies that have helped professional athletes win!
Tennis Confidence: Mental Toughness For Tournament Players
What are mental game customers saying?
"We are amazed at how much 'The Confident Athlete' program has helped my niece play her best tennis during matches. She literally made it to the farthest round of a tournament (semifinals) after finishing the CDs/workbook. We are going to do all five in the series."
~Jason Bourguignon, Uncle
---
Download Our Free Tennis Psychology Report!

Discover if you are making one or more of these "costly" unforced mental game errors during matches!
Download our free Tennis Psychology Report:
Six Unforced 'Mental Game' Errors Tennis Players Make Between Points
You'll discover:
How your mind can be your best or worst asset on the court.
If you are using your mind effectively between points.
One strategy that can help you let of go the last point.
The top mental game skills you need to master to boost your confidence and performance between points.
Click here to download your FREE report today: Six Unforced 'Mental Game' Errors Tennis Players Make Between Points
What are tennis players saying?
"I want to let you know that your Tennis Confidence CDs have been extremely helpful to me. I listen to them in the car, and the program is helping me overcome a lifetime of tournament performance anxiety. Thank you!"
~Wing Wu
---
Boost Your Self-Confidence And Focus With Expert Mental Game Coaching!
Master mental game coach Dr. Patrick Cohn can help you overcome your mental game issues with personal coaching.
You can work with Dr. Patrick Cohn himself in Orlando, Florida or via Skype, FaceTime, or telephone. Call us toll free at 888-742-7225 or contact us for more information about the different coaching programs we offer!
What are our mental coaching students saying?
"On behalf of all of our coaches who attended the 2004 ITA Coaches Convention, I would like to thank you for serving as a featured clinician. I know that the coaches felt it was both enjoyable and informative. We greatly appreciate your taking the time to prepare and present such an outstanding clinic for the benefit of our coaches."
~Nancy Breo, ITA Convention