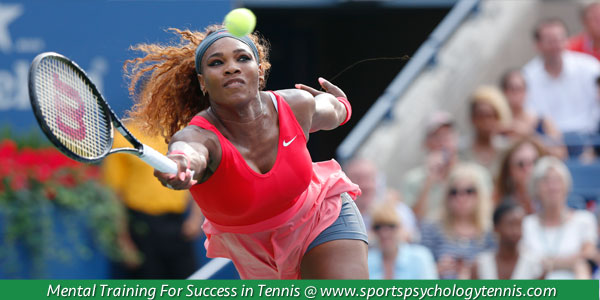 Overcoming Pressure to Win
When you are expected to win, do you still play well or do you become overwhelmed by the pressure to succeed?
Does your confidence get shaken when expectations are high?
A big part of confidence in tennis is managing emotions and expectations.
You would think a high ranking would be a boost to confidence but it often has the opposite effect.
Confidence requires you to play your game in the present moment, focusing on the process instead of the outcome.
To keep confidence high, you must recognize and take advantage of your strengths.
Think back to a time when you have battled to improve your ranking…
You worked on your conditioning, your technique and focused on your gradual improvement…
The result of your hard work and focus was better tennis play and you started stringing together some successful matches…
All the while you were focused on the process or what you needed to do in order to improve your tennis game…
Then, when your rank was high, so were the expectations to win…
You started getting nervous and fearing, "What if I lose to this lower ranked opponent?"
You started to focus on outcomes (winning or losing) and began to play tentatively…
You started to play "not to lose" and made unforced errors. Your performance became inconsistent… As a result your confidence took a huge hit.
Serena Williams will be entering the 2014 French Open as the reigning champion.
Serena reached a milestone and moved into fifth place for most weeks (178) as the WTA Tour's No. 1 player.
Along with Serena's milestone comes the sustained expectation to win.
"There is so much pressure to win every match. It's bigger news to lose than it is to win."
Serena's adviser and coach, Patrick Mouratoglou acknowledged the difficulty of high expectations to win:
MOURATOGLOU: "This is really new to be dominating that much. It's different from the past, because if you look at her career she's been No. 1 several times, but many, many times she was not No. 1 when she came to the Slams and she was really relaxed."
Serena plans to deal with the pressure of expectations by adopting a relaxed approach and a focus on the present:
SERENA: "Usually I'm like, 'Oh my God, I have to defend.' This time I'm going to be cool with it… It's more a calming [approach]. I'm taking things in stride as opposed to expecting things that are to come."
Try these tips to play confident tennis despite expectations…
You should focus on your strengths. Seeing the things that you do well keeps you confident and focused on your strengths.
You need to understand that "pressure" is something you do to yourself. That is good news… it means you have the ability to change your perception about matches.
You should learn relaxation strategies to calm yourself so you can play in your optimal zone.
Successful tennis players have learned how to perform with ultimate confidence in tournaments. We've developed Tennis Confidence: Mental Toughness For Tournament Players to help you do this.
---
Related Tennis Psychology Articles
*Subscribe to The Tennis Psychology Podcast on iTunes
*Subscribe to The Tennis Psychology Podcast on Spotify
---
Improve Your Mental Game for Tennis
Tennis Confidence 2.0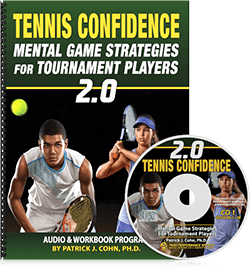 "Tennis Confidence: Mental Game Strategies for Tournament Players" is an audio and workbook program to help tennis players, coaches, and instructors improve the mental game of tennis is just 10 easy to learn sessions. Tennis Confidence: Mental Game Strategies for Tournament Players Audio and Workbook program is ideal for any junior, collegiate, and tour professional player. Tennis coaches and instructors would also be wise to teach the strategies "Tennis Confidence."
Tennis Confidence is a complete mental training program developed Peak Performance Sports. You learn the same strategies Dr. Cohn teaches his tennis players to help them improve mental toughness and consistency – from managing unrealistic expectations to coping with perfectionism.
Read more about Tennis Confidence Program>>