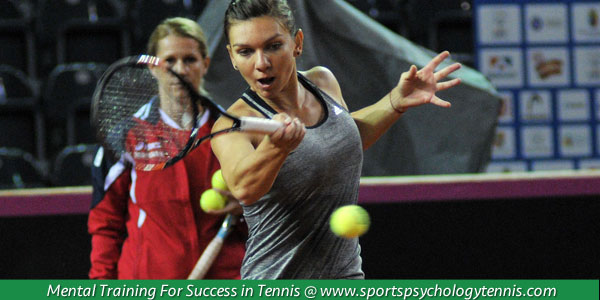 Maintaining High Confidence in Matches
Are you a confident tennis player? That's a loaded question! You cannot answer with a simple yes or no.
But most tennis players view confidence as an all-or-nothing attribute. That is, either you are "confident" or are "not confident."
Confidence is not a destination.
If you win a big match, you don't achieve eternal confidence from that point forth.
Nor is it you lose a tough match, you are totally devoid of confidence and need to go on an epic search to recover it.
Think of a time when you were defeated in a big match… Afterwards, you may have thought, "I lost my confidence after that match."
The problem with this mentality of confidence as a destination is that when you are faced with some adversity (losses, poor play), you begin to question your abilities…
Your poor play knocks you and your confidence level back to the starting point…
You end up playing poorly for a stretch of time and find it difficult to bounce back to your previous level of play.
Confidence is a long-term process that requires its due diligence for development and refinement.
There are varying degrees of confidence and just because you are not supremely 100 percent confident, doesn't mean you will play poorly.
With this mentality, you view poor performances as a bump in the road…
You are able to learn from the experience and rebound for your next match without suffering a huge hit to your confidence level.
Caroline Garcia is a 20 year-old French professional tennis player.
Garcia burst onto the tennis scene at the 2011 French Open when she took Maria Sharapova to the limit in the second round, 6-4, 4-6, 0-6.
Garcia appeared confident and poised to quickly ascend to the top of the tennis rankings.
Garcia acknowledged the transition from junior tennis to the WTA has been challenging:
"In juniors, sometimes you have an easy match… In seniors, every match is complicated…even if the girl [makes mistakes], she'll fight back and try to win."
Garcia experienced a tough stretch from September 2013 to February 2014 enduring an eight-match losing streak.
Despite those losses, Garcia's confidence remained stable as she rebounded and to an 18-6 record since that slump.
At the 2014 Sony Open, Garcia was the only player to take a set from Serena Williams.
Garcia identified the key to her confidence and success:
"Play how I like but play patient and simply."
Garcia's simple statement contains 3 tips to maintain confidence:
Focus on your strengths and play your game accordingly. When you focus on your opponents strengths, you lose your edge.
Be patient. Focus on one point at a time no matter if you have the lead or are trailing in a set. You can't get back into a set with one shot.
"Keep it simple!" Don't over-think or evaluate your play while playing. Trust in your abilities and what got you to this point.
Successful tennis players have learned how to perform with ultimate confidence in tournaments. We've developed Tennis Confidence: Mental Toughness For Tournament Players to help you do this.
---
Boost Your Self-Confidence and Focus with Expert Mental Game Coaching Tennis Mindset
Learn how to boost your mental game of tennis and develop the confidence of a champion quickly and effortlessly with tennis mental game coaching!
If you're not performing up to your potential in matches, most likely your mental game is holding you back. Are you so frustrated with your performance you feel like giving up? Does your confidence evaporate when you play in tournaments? Are you tired of working hard in practice and not getting any results in matches?
We can help you uncover the beliefs and attitudes that keep you from performing to your potential.
Complimentary 15-Minute Coaching Session
Call Us Today to Schedule Your Free 15-Minute Session.
Find Out How You Can Benefit From One-on-One Mental Coaching!
888-742-7225 | 407-909-1700
Please contact us today to learn how mental coaching works and to request pricing on all mental training programs for tennis players. Complete the form below to contact us via email or call us toll-free at 888-742-7225