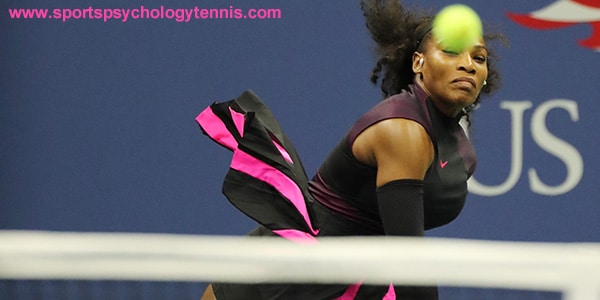 What Are The Tennis Yips?
One of the most common anxiety-based issues athletes face are the yips. The yips can be seen across many different sports, but they also happen in the game of tennis.
The yips occur when a talented athlete finds he or she cannot perform to best of his or her ability during a high-pressure event.
Although the athlete may have trained and prepared for the event, he or she may find, at game time, that the skills are simply not there.
This, of course, does not occur due to a lack of talent, but rather, due to the anxiety that comes with playing in a high stakes competition.
A recent case of the yips can be seen in Serena Williams' performance in her last two Grand Slam opportunities…
After losing her bid for her first Grand Slam back in September to Roberta Vinci, Williams was defeated once again at this past week's Australian Open by Angelique Kerber.
In both events, Williams was definitely not performing at her best, showing definite signs of succumbing to the pressure of expectation.
When speaking with the media following last week's match Williams shared the following statement:
"It's interesting. I mean, every time I walk in this room, everyone expects me to win every single match, every single day of my life. As much as I would like to be a robot, I'm not. I try to. But I do the best that I can. I try to win every single time I step out there, every single point, but realistically I can't do it. Maybe someone else can, but I wasn't able to do it."
Clearly, Williams performance was impacted not by her lack of ability, but my her lack of pressure in high-pressure situations. When facing off against top players such as Maria Sharapova, Simona Halep, Caroline Wozniacki and sister Venus, Williams is able to keep up her skill and stamina throughout the entire game.
However, when it comes time to play for the Grand Slam, she is overcome by anxiety and falls victim to the yips.
Fortunately, Williams has three and a half months to prepare for her next shot at a Grand Slam. As the yips are entirely driven by anxiety, Williams can, with the right mental training, overcome her issue and finally claim her title in her next event.
Until then, the following tactics would be extremely beneficial in overcoming the yips:
Understand that you are in control of your yips. The yips are driven by internal anxiety and once the cause is addressed and overcome, confidence can be restored to beat the yips.
Utilize deep breathing exercises to reduce anxiety pregame anxiety.
Practice mindfulness. Keep your attention fully focused on the match and tune out external stimuli that may cause distractions.
---
Boost Your Self-Confidence and Focus with Expert Mental Game Coaching Tennis Mindset
Learn how to boost your mental game of tennis and develop the confidence of a champion quickly and effortlessly with tennis mental game coaching!
If you're not performing up to your potential in matches, most likely your mental game is holding you back. Are you so frustrated with your performance you feel like giving up? Does your confidence evaporate when you play in tournaments? Are you tired of working hard in practice and not getting any results in matches?
We can help you uncover the beliefs and attitudes that keep you from performing to your potential.
Complimentary 15-Minute Coaching Session
Call Us Today to Schedule Your Free 15-Minute Session.
Find Out How You Can Benefit From One-on-One Mental Coaching!
888-742-7225 | 407-909-1700
Please contact us today to learn how mental coaching works and to request pricing on all mental training programs for tennis players. Complete the form below to contact us via email or call us toll-free at 888-742-7225