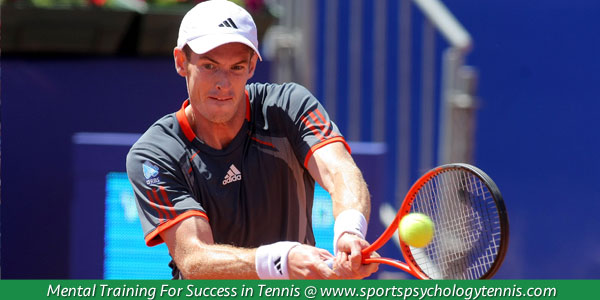 How Dwelling on The Past Can Hurt Performance
Tennis players can experience strong emotions during match play.
Positive emotions, such as experiencing the thrill of hitting a winner can have a powerful effect on your mental game and thus boost your confidence and focus during the match. Feeling positive emotions, such as momentum, can help keep your run going strong.
Negative emotions, such as frustration or anger, can hurt your game.
Tennis players feel upset, frustrated or angry for several different reasons. You might become upset after missing shots you have no trouble executing in practice. You might feel angry with yourself after making a poor decision on shot selection or strategy. You might even become frustrated with an opponent's bad line call.
Whatever the cause of your frustration, a process I call "dwelling on the past" happens and causes you to lose focus on the match. You may carry your frustration with you to the next point or shot causing more mistakes and lower confidence in your game.
Staying composed is critical to improving your mental game of tennis.
Victoria Azarenka is an excellent example of staying composed on the court. She experienced the biggest win of her career so far, beating Serena Williams in the final of the Sony Ericsson Open last week.
"I was more consistent and more aggressive. I would say I was always trying to put pressure and I was just believing in myself so much. No matter what, I have to play and keep going and I can win. I think I controlled [my emotions] very well for the first big final. I wasn't getting upset on any ball. I was just happy to play every point," said Victoria Azarenka.
Often in my work as a mental game coach to athletes, I see athletes become frustrated because they are blocked from reaching their expectations.
The solution is to modify your unrealistic or strict expectations.
Your expectations might be about stats (number of winners for example) or results (beating someone in two sets). When you don't achieve those high expectations, you become frustrated easily and might lose confidence.
Your Mental Game Tip For Today
Understand that you can't be perfect in tennis and always play up to your high expectations. Give yourself the luxury of making 3-4 errors per match. This way you can put mistakes behind you and move on to the next point.
Learn from your mistakes instead of beat yourself up for a lost chance or opportunity.
---
Learn Proven Mental Game Strategies To Perform Your Best On The Court!
Are you (or your players) performing up to your ability in competition?
Do you bring your best and most confident game to matches?
Successful tennis players have learned how to perform with ultimate confidence in tournaments.
If you are ready to improve your mental toughness and perform with ultimate self-confidence in matches, Tennis Confidence: Mental Toughness For Tournament Players can help you do this!
Use Tennis Confidence to help boost your mental toughness in tennis and discover powerful and proven mental game strategies that have helped professional athletes win!
Tennis Confidence: Mental Toughness For Tournament Players
What are mental game customers saying?
"Since you last worked with AJ in early September, his National ranking has improved from 349 to 148. His tournament record at one point, since talking with you was 17-4, with 3 of the 4 being in third sets or tiebreakers and 2 of those matches being the same player, whom he has since beaten (you may recall he was on an 0-9 losing streak when we contacted you). His tie-breaker record is at least 90% through last weekend when he won the 18s District tournament with a semi and final match tiebreak win. Your help has definitely improved AJ's results and his on-court demeanor has substantially improved."
~Dawn Woodman, A.J.'s Mother
---
Download Our Free Tennis Psychology Report!

Discover if you are making one or more of these "costly" unforced mental game errors during matches!
Download our free Tennis Psychology Report:
Six Unforced 'Mental Game' Errors Tennis Players Make Between Points
You'll discover:
How your mind can be your best or worst asset on the court.
If you are using your mind effectively between points.
One strategy that can help you let of go the last point.
The top mental game skills you need to master to boost your confidence and performance between points.
Click here to download your FREE report today: Six Unforced 'Mental Game' Errors Tennis Players Make Between Points
What are tennis players saying?
"Danielle did really well with controlling her emotions during the matches today. We were very proud of her for not showing her frustrations during the match; I think that was a big accomplishment. She really looked in control of her emotions even when she double faulted or made mistakes. The changes we saw on Danielle's behavior in less than 24 hours were AWESOME! Thank you for your guidance!"
~Jennifer, Tennis Parent
---
Boost Your Self-Confidence And Focus With Expert Mental Game Coaching!
Master mental game coach Dr. Patrick Cohn can help you overcome your mental game issues with personal coaching.
You can work with Dr. Patrick Cohn himself in Orlando, Florida or via Skype, FaceTime, or telephone. Call us toll free at 888-742-7225 or contact us for more information about the different coaching programs we offer!
What are our mental coaching students saying?
"On behalf of all of our coaches who attended the 2004 ITA Coaches Convention, I would like to thank you for serving as a featured clinician. I know that the coaches felt it was both enjoyable and informative. We greatly appreciate your taking the time to prepare and present such an outstanding clinic for the benefit of our coaches."
~Nancy Breo, ITA Convention