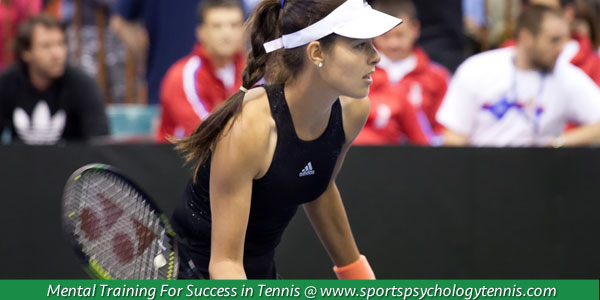 Mental Strategies to Control Your Emotions in Matches
Do your emotions get the best of you during a match especially when not hitting shots like you normally do?
Do find it hard to recover after a bad call or lost point due to frustration or anger?
Negative emotions eat up your mental energy and can drain your strength that is needed later in a match.
Has this ever happened to you:
You are playing a set point and you catch your opponent out of position…
All you have to do is hit the ball over the net into the open court to win the set, but instead, you hit it right into the net…
You can feel the anger and frustration build inside and you end up blowing the match.
Tennis is a game of emotion, but it doesn't have to dictate your level of play.
The act of missing easy shots is not the cause of frustration–it's only the trigger.
The real culprit is your reaction to the miss hit, not the miss hit itself. The players I work with have a tough time with this idea…
The ability to let go of past points will improve your consistency on the court and help you achieve more of your potential.
What is emotional control?
Emotion control can be defined as your ability to let go of mishaps and mistakes from the past quickly so you can play on with composure.
Essentially, emotional control means that you are in charge on the court, not your emotions.
Effective emotional control involves coping with your feelings as soon as possible to minimize distraction and energy loss.
Therefore, emotion control is crucial to your success in tennis.
How to deal with emotions?
Think of how a pilot deals with emotion in crisis situations…
A pilot doesn't wallow in negative emotions…
A pilot focuses solely on the task at hand. He focuses on what he needs to do to deal with the situation effectively and objectively.
Your job on the tennis court is to win the current point, not to dwell on the miss hit or bad shot.
After a point is finished, win or lose, let it go and move on. I know, easy to say but hard to do for most players.
When you get angry with yourself about the last point, ask yourself:
Is this helping me play the next point?
Between points and sets are valuable opportunities to regain your composure and refocus on the next point.
Having a post-point and pre-point routine is an excellent way to handle the frustration. For example, before you step up the the service line or to return the serve, make sure you committed to playing the next point.
Try these tips to improve your emotional management skills:
Tip #1: Learn how to let go of the frustration in practice and then in matches. Give yourself a mental time out when you get upset and then a personal pep talk. You are the only one who can turn off the frustration.
Tip #2: Use your towel or focus on your strings to trigger the end of one point and the start of the next. Think of Sharapova's routine between points. She's separating the last point from the next point she's about to play by keeping her back to the court.
Successful tennis players have learned how to perform with ultimate confidence in tournaments. We've developed Tennis Confidence: Mental Toughness For Tournament Players to help you do this.
---
Learn Proven Mental Game Strategies To Perform Your Best On The Court!
Are you (or your players) performing up to your ability in competition?
Do you bring your best and most confident game to matches?
Successful tennis players have learned how to perform with ultimate confidence in tournaments.
If you are ready to improve your mental toughness and perform with ultimate self-confidence in matches, Tennis Confidence: Mental Toughness For Tournament Players can help you do this!
Use Tennis Confidence to help boost your mental toughness in tennis and discover powerful and proven mental game strategies that have helped professional athletes win!
Tennis Confidence: Mental Toughness For Tournament Players
What are mental game customers saying?
"I want to let you know that your Tennis Confidence CDs have been extremely helpful to me. I listen to them in the car, and the program is helping me overcome a lifetime of tournament performance anxiety. Thank you!"
~Wing Wu
---
Download Our Free Tennis Psychology Report!

Discover if you are making one or more of these "costly" unforced mental game errors during matches!
Download our free Tennis Psychology Report:
Six Unforced 'Mental Game' Errors Tennis Players Make Between Points
You'll discover:
How your mind can be your best or worst asset on the court.
If you are using your mind effectively between points.
One strategy that can help you let of go the last point.
The top mental game skills you need to master to boost your confidence and performance between points.
Click here to download your FREE report today: Six Unforced 'Mental Game' Errors Tennis Players Make Between Points
What are tennis players saying?
"Dr. Cohn, one of my goals is to become a world-class-coach, There are a few coaches from the US who inspired me the most-John Wooden, Son Shula, and Pat Riley. After working with you, I now also list your name among the most influential coaches in my field!"
~Franz
---
Boost Your Self-Confidence And Focus With Expert Mental Game Coaching!
Master mental game coach Dr. Patrick Cohn can help you overcome your mental game issues with personal coaching.
You can work with Dr. Patrick Cohn himself in Orlando, Florida or via Skype, FaceTime, or telephone. Call us toll free at 888-742-7225 or contact us for more information about the different coaching programs we offer!
What are our mental coaching students saying?
"We are amazed at how much 'The Confident Athlete' program has helped my niece play her best tennis during matches. She literally made it to the farthest round of a tournament (semifinals) after finishing the CDs and workbook. We are going to do all 3 in the series."
~Jason Bourguignon, Uncle