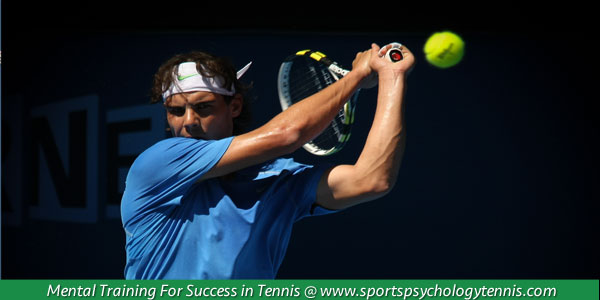 The Importance of Mental Preparation
Did you happen to catch the final of the Western & Southern Open Championship between Roger Federer and Novak Djokovic?
Federer won his fifth Cincinnati title Sunday, which was a record for this event.
What was really interesting, from a mental game perspective, was how flat Novak Djokovic looked in the finals…
Federer beat Djokovic 6-0 in the first set, which was the first time he's done this. Keep in mind that Djokovic had not lost a service game prior to the finals.
What a difference in the first and second set for Djokovic… Djokovic got his wheels going in the second set, but it was too little too late by then. He lost 6-7 in the second set after losing in the tiebreaker.
And it wasn't for the lack of wanting to win…
"It was a final today, so I really wanted to win. There is no question about it. Maybe playing couple weeks in a row, four weeks in a row, got to me maybe mentally. Physically it didn't. I felt OK on the court," Djokovic said.
Was he worn down mentally from playing too much?
Or did Federer just play that well?
I think he was flat in the first set because he was not prepared to play mentally. Intensity is critical in tennis… Federer took only 20 minutes to win the first set. Djokovic won only 10 points!
But having the right intensity that's right for you is the key.
Novak played well in the second set because he found a way to get his intensity and thus game back.
Did Novak underestimate Federer because he's beaten him their last few meetings on the hard court? Was he just tired from the Olympics drama? Did he not warm up properly before the match?
Only Djokovic knows the answer. However, this match really highlighted the importance of intensity and getting into the right mindset for the start of the match.
But Federer played flawlessly at the start of the first set. I think Federer was ready for a fast start and Djokovic wanted to work his way into the match.
"I was hoping for a good start, but not like that," Federer said.
This was another example of the importance of your mental game in tennis. In this case, it was all about coming ready, mentally and physically, to play on Sunday in the finals of a championship.
Improve Your Mental Toughness for Tennis Quickly with Dr. Cohn's new Tennis Confidence Audio Program
---
Learn Proven Mental Game Strategies To Perform Your Best On The Court!
Are you (or your players) performing up to your ability in competition?
Do you bring your best and most confident game to matches?
Successful tennis players have learned how to perform with ultimate confidence in tournaments.
If you are ready to improve your mental toughness and perform with ultimate self-confidence in matches, Tennis Confidence: Mental Toughness For Tournament Players can help you do this!
Use Tennis Confidence to help boost your mental toughness in tennis and discover powerful and proven mental game strategies that have helped professional athletes win!
Tennis Confidence: Mental Toughness For Tournament Players
What are mental game customers saying?
"We are amazed at how much 'The Confident Athlete' program has helped my niece play her best tennis during matches. She literally made it to the farthest round of a tournament (semifinals) after finishing the CDs/workbook. We are going to do all five in the series."
~Jason Bourguignon, Uncle
---
Download Our Free Tennis Psychology Report!

Discover if you are making one or more of these "costly" unforced mental game errors during matches!
Download our free Tennis Psychology Report:
Six Unforced 'Mental Game' Errors Tennis Players Make Between Points
You'll discover:
How your mind can be your best or worst asset on the court.
If you are using your mind effectively between points.
One strategy that can help you let of go the last point.
The top mental game skills you need to master to boost your confidence and performance between points.
Click here to download your FREE report today: Six Unforced 'Mental Game' Errors Tennis Players Make Between Points
What are tennis players saying?
"On behalf of all of our coaches who attended the 2004 ITA Coaches Convention, I would like to thank you for serving as a featured clinician. I know that the coaches felt it was both enjoyable and informative. We greatly appreciate your taking the time to prepare and present such an outstanding clinic for the benefit of our coaches."
~Nancy Breo, ITA Convention
---
Boost Your Self-Confidence And Focus With Expert Mental Game Coaching!
Master mental game coach Dr. Patrick Cohn can help you overcome your mental game issues with personal coaching.
You can work with Dr. Patrick Cohn himself in Orlando, Florida or via Skype, FaceTime, or telephone. Call us toll free at 888-742-7225 or contact us for more information about the different coaching programs we offer!
What are our mental coaching students saying?
"Dr. Cohn, one of my goals is to become a world-class-coach, There are a few coaches from the US who inspired me the most-John Wooden, Son Shula, and Pat Riley. After working with you, I now also list your name among the most influential coaches in my field!"
~Franz