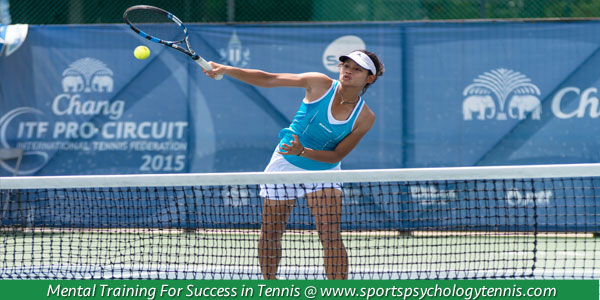 What do you do to gain an advantage over other tennis players? All tennis players seek to gain an edge over their opponents….
Maybe you have tried new equipment or hired a personal trainer.
Possibly, you have changed your diet, playing style or training regimen.
Perhaps, you have revamped your strokes or serve with the help of a coach.
All these strategies can benefit your game without question.
Novak Djokovic, ranked No. 2 in the world, realizes having an edge over your opponents is everything in tennis and believes the greatest advantage to develop is mental toughness:
"Over the last 10 years, tennis has become a much more physical game. That's partly because of technology, as the new tools allow us to generate much more power than before. You have to be ready to face even 6 hours matches. In the end though, the mental strength is the one that gives you the greater advantage."
Developing your mental toughness is like learning a new serve.
Just like changing your serve takes a conscious choice, developing mental toughness also requires a conscious decision.
When you start down the path to a new serve, one attempt will not cut it. Getting your serve match-ready requires commitment, dedication and practice.
In the short term, it will not feel natural, but the end result will be a better serve and a new level of play. The same is true of mental toughness.
Mental toughness requires a commitment to improve your mental game and give full effort—for the long-term, not just this week.
When tennis players or tennis parents ask to come in for one mental training session, I have to stop and educate them on what I really do. There is no such thing as a quick fix when it comes to mental toughness. You have to commit to the process.
Tips For Becoming Mentally Tough:
Understand that, like you physical skills, mental skills take time to develop. Stay committed to mental training through the ups and downs.
You want to apply mental skills, such as refocusing, when you are practicing, not just in matches.
For every match you play, you want to assess your mental toughness and what you can improve for the next tournament.
---
Learn Proven Mental Game Strategies To Perform Your Best On The Court!
Are you (or your players) performing up to your ability in competition?
Do you bring your best and most confident game to matches?
Successful tennis players have learned how to perform with ultimate confidence in tournaments.
If you are ready to improve your mental toughness and perform with ultimate self-confidence in matches, Tennis Confidence: Mental Toughness For Tournament Players can help you do this!
Use Tennis Confidence to help boost your mental toughness in tennis and discover powerful and proven mental game strategies that have helped professional athletes win!
Tennis Confidence: Mental Toughness For Tournament Players
What are mental game customers saying?
"I want to let you know that your Tennis Confidence CDs have been extremely helpful to me. I listen to them in the car, and the program is helping me overcome a lifetime of tournament performance anxiety. Thank you!"
~Wing Wu
---
Download Our Free Tennis Psychology Report!

Discover if you are making one or more of these "costly" unforced mental game errors during matches!
Download our free Tennis Psychology Report:
Six Unforced 'Mental Game' Errors Tennis Players Make Between Points
You'll discover:
How your mind can be your best or worst asset on the court.
If you are using your mind effectively between points.
One strategy that can help you let of go the last point.
The top mental game skills you need to master to boost your confidence and performance between points.
Click here to download your FREE report today: Six Unforced 'Mental Game' Errors Tennis Players Make Between Points
What are tennis players saying?
"Dr. Cohn, one of my goals is to become a world-class-coach, There are a few coaches from the US who inspired me the most-John Wooden, Son Shula, and Pat Riley. After working with you, I now also list your name among the most influential coaches in my field!"
~Franz
---
Boost Your Self-Confidence And Focus With Expert Mental Game Coaching!
Master mental game coach Dr. Patrick Cohn can help you overcome your mental game issues with personal coaching.
You can work with Dr. Patrick Cohn himself in Orlando, Florida or via Skype, FaceTime, or telephone. Call us toll free at 888-742-7225 or contact us for more information about the different coaching programs we offer!
What are our mental coaching students saying?
"We are amazed at how much 'The Confident Athlete' program has helped my niece play her best tennis during matches. She literally made it to the farthest round of a tournament (semifinals) after finishing the CDs and workbook. We are going to do all 3 in the series."
~Jason Bourguignon, Uncle