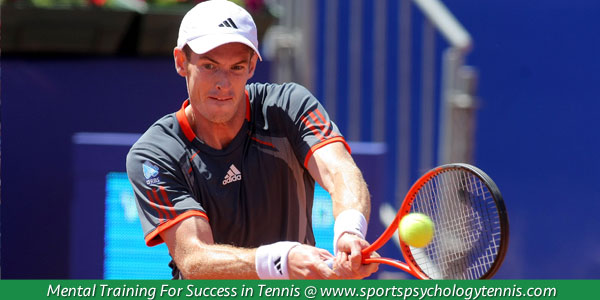 Wawrinka's Trusting Mindset
Do higher seeded tennis players intimidate you (or players you coach)? And did you think you were going to lose before the match even started?
In order to believe you can win, you must be confident and trust in your abilities in the present moment.
When you don't trust your abilities, your confidence waivers and your strokes are filled with apprehension and tension.
Imagine preparing to play a higher ranked tennis player….
You might think, "I have never beaten this player before, so why would I be able be able to beat them now?"
You over think the match long before it even starts.
You become very nervous as your muscles begin to tense up.
During warm-up, you can't even seem to hit the simple shots fair.
When the match starts, you just want to get it over quickly, and you make a lot of unforced errors and lose the match badly… just like you thought!
When you don't trust your abilities, your performance suffers.
Your thoughts prior to a match can bring about the very thing you fear. It's called a self-fulfilling prophecy…
Your thoughts ("I can't win) affect your emotions (fear and anxiety), your emotions affect your physiology (tense muscles), your physiology affects your technique and your technique affects your performance (poor play).
Let's get real…
You are not going to beat every player who is ranked higher than you. It is also true that you will not beat every player ranked lower than you.
But there is one fact for sure… you will not beat any player seeded higher than you if you concede the loss prior to the start of the match.
Stanislas Wawrinka started the 2014 season ranked No. 8 in the world but has recently climbed up to No. 3.
Wawrinka has won all three finals he has played in this year and has recorded victories over Novak Djokovic (No. 2 rank) and Rafael Nadal (No. 1 rank). In the 2014 Monte Carlo Masters final, Wawrinka faced Roger Federer (No. 4 rank) who holds a 13-1 record against Wawrinka.
Wawrinka faced a lot of pressure going into the finals as he played against Federer, his fellow countryman, and a player he describes as the greatest of all time.
Despite the pressure, Wawrinka triumphed 4-6, 7-6, 6-2 to win his first Masters Series title.
Wawrinka revealed his mindset and level of trust in his abilities prior to the tournament:
"When I go into a match against them, I think I can beat them. I'm on the court to win. I'm more consistent and I have better results. The difference is that now I have more trust in myself."
How to Trust in Your Abilities:
You need to think about matches as opportunities to play against top players, not as opportunities to lose easily.
Avoid over-thinking your strokes and the match outcome. Have a simple game plan to help you focus, but not over analyze.
You want to swing out on the ball instead of protecting from misses or unforced errors. The moment you start to steer or guide your strokes, you are no longer in control.
Successful tennis players have learned how to perform with ultimate confidence in tournaments. We've developed Tennis Confidence: Mental Toughness For Tournament Players to help you do this.
---
Learn Proven Mental Game Strategies To Perform Your Best On The Court!
Are you (or your players) performing up to your ability in competition?
Do you bring your best and most confident game to matches?
Successful tennis players have learned how to perform with ultimate confidence in tournaments.
If you are ready to improve your mental toughness and perform with ultimate self-confidence in matches, Tennis Confidence: Mental Toughness For Tournament Players can help you do this!
Use Tennis Confidence to help boost your mental toughness in tennis and discover powerful and proven mental game strategies that have helped professional athletes win!
Tennis Confidence: Mental Toughness For Tournament Players
What are mental game customers saying?
"I want to let you know that your Tennis Confidence CDs have been extremely helpful to me. I listen to them in the car, and the program is helping me overcome a lifetime of tournament performance anxiety. Thank you!"
~Wing Wu
---
Download Our Free Tennis Psychology Report!

Discover if you are making one or more of these "costly" unforced mental game errors during matches!
Download our free Tennis Psychology Report:
Six Unforced 'Mental Game' Errors Tennis Players Make Between Points
You'll discover:
How your mind can be your best or worst asset on the court.
If you are using your mind effectively between points.
One strategy that can help you let of go the last point.
The top mental game skills you need to master to boost your confidence and performance between points.
Click here to download your FREE report today: Six Unforced 'Mental Game' Errors Tennis Players Make Between Points
What are tennis players saying?
"Dr. Cohn, one of my goals is to become a world-class-coach, There are a few coaches from the US who inspired me the most-John Wooden, Son Shula, and Pat Riley. After working with you, I now also list your name among the most influential coaches in my field!"
~Franz
---
Boost Your Self-Confidence And Focus With Expert Mental Game Coaching!
Master mental game coach Dr. Patrick Cohn can help you overcome your mental game issues with personal coaching.
You can work with Dr. Patrick Cohn himself in Orlando, Florida or via Skype, FaceTime, or telephone. Call us toll free at 888-742-7225 or contact us for more information about the different coaching programs we offer!
What are our mental coaching students saying?
"We are amazed at how much 'The Confident Athlete' program has helped my niece play her best tennis during matches. She literally made it to the farthest round of a tournament (semifinals) after finishing the CDs and workbook. We are going to do all 3 in the series."
~Jason Bourguignon, Uncle