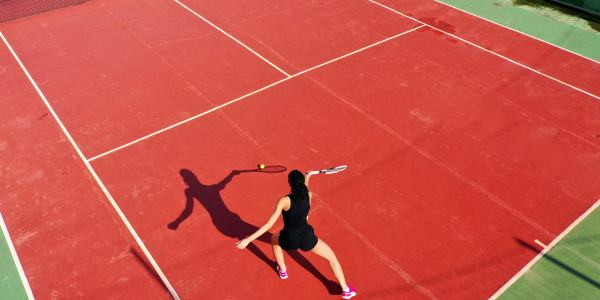 Do you look forward to competing against the best tennis players?
Many tennis players would rather play easy matches than challenge themselves against top competition.
Why would players shy away from challenging themselves?
It comes down to how some players view losses….
Some players fear that losing is a statement about their ability. When competing from the standpoint of fear, you view losses as a negative commentary about who you are as an athlete. You will have the mindset of "trying not to lose."
Instead of playing aggressively and hitting winners, you will play cautiously. You will feel anxious and tight. Every point you lose, you will see as confirmation that you cannot win or don't have talent.
With this negative mindset, every time you lose, you prove yourself right.
The alternate mindset is to see a match against high-ranked players as a challenge. In this mindset, you are not over-focused on the result of the match.
You are excited by the challenge. You look forward to playing the match because you are excited to elevate your game. You take calculated risks, play aggressively and go for it until the last point.
After the match, you reflect objectively on the match and extract informative feedback from your performance. Instead of the results being an indictment of your ability, you gain valuable insight into what you did well and what you need to improve your game.
No matter the results, even if you lost in straight sets, your performance will provide positive information about what is working and the next steps needed to elevate your game.
Before his semi-final match at the 2023 French Open, Carlos Alcaraz commented on his mindset about facing 22-time Grand Slam champion Novak Djokovic.
Alcaraz called Djokovic "one of the best" players in tennis history and admitted it would be a tough match. However, Alcaraz stated he was looking forward to the challenge.
ALCARAZ: "I really wanted to play this match as well. I always say that if you want to be the best, you have to beat the best. Novak Djokovic right now is one of the best players in the world, so it's going to be a really tough challenge for me. But I'm really looking forward to that match, playing such a great level."
A challenge-based mindset focuses on the process of playing one point at a time. You still want to achieve a positive result. After all, winning is the ultimate object of the game…
The difference is you pay more attention to "How can I win this point?" rather than "What if I lose the match?"
Challenging yourself to achieve next-level performance starts with the most impactful tool at your disposal–your MINDSET!
You set the tone for each match with your mindset.
Changing your mindset is a 4-step process:
Clearly define your optimal competitive mindset, such as high intensity.
In training sessions, practice playing with this mindset. Bring high intensity to each practice.
Visualize successfully competing with this mindset. Based on past matches would would that look and feel like?
Before a match, identify two objectives that will help you play with this new mindset, such as to "keep my energy high" or "grind it out till the end."
---
Related Tennis Psychology Articles
*Subscribe to The Tennis Psychology Podcast on iTunes
*Subscribe to The Tennis Psychology Podcast on Spotify
---
Improve Your Mental Game for Tennis
"Tennis Confidence: Mental Game Strategies for Tournament Players" is an audio and workbook program to help tennis players, coaches, and instructors improve the mental game of tennis is just 10 easy to learn sessions. Tennis Confidence: Mental Game Strategies for Tournament Players Audio and Workbook program is ideal for any junior, collegiate, and tour professional player. Tennis coaches and instructors would also be wise to teach the strategies "Tennis Confidence."
Tennis Confidence is a complete mental training program developed Peak Performance Sports. You learn the same strategies Dr. Cohn teaches his tennis players to help them improve mental toughness and consistency – from managing unrealistic expectations to coping with perfectionism.
Read more about Tennis Confidence Program>>