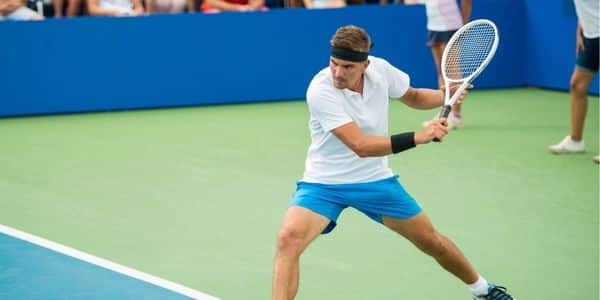 What is Rhythm?
Usually, rhythm is associated with the physical aspect of music or dance.
When athletes speak of rhythm, they refer to getting into a flow or immersing themselves in the moment. Getting into the flow is similar to listening to music.
Think of a moment when you were listening to your favorite songs, lost track of time, and were practically oblivious to things happening around you.
You became lost in the music, and nothing else seemed to matter, not the boring day at school, the low grade you received on a test, and not even the homework you needed to do later in the evening.
Getting into the flow of a tennis match is losing yourself in the game or playing without consciously thinking during the point.
In our Mental Game of Tennis Needs Survey, we received the following question:
"How can I raise my mental game to the same level or close to the same level as the pros? In other words, how do I get into "the zone" that so many pros are able to get into during their matches?"
When you are out of rhythm, you are usually overthinking.
For example, when you serve, you begin to think, "I'm down two games. I have to hold my serve, or I probably will lose. I can't afford to double-fault during this game, but my opponent is crushing the ball down the line. I am so nervous."
Getting into the flow requires you to quiet your mind and stay in the present.
Thinking about the score, spectators, your parents, your coach, the last game or possibly losing interferes with your rhythm.
To get into the zone, you can take a deep breath to release the last point, choose your strategy for the next point, take another deep breath, then narrow your focus by immersing yourself in your pre-shot routine.
Following this process will make you feel more comfortable and confident for longer stretches throughout the match.
Take, for example, Aryna Sabalenka. Sabalenka defeated Magda Linette 7-6 (1), 6-2 to reach her first major final at the 2023 Australian Open.
The win was Sabalenka's first Grand Slam semifinal in four tries. Sabalenka battled through a challenging first set before calming her nerves and getting into her flow.
SABALENKA: "I didn't start really well, and then in the tiebreak, I kind of found my rhythm and started trusting myself and going for the shots. It was great tennis from me in the tiebreak."
How did Sabalenka find her rhythm?
SABALENKA: "[Linette] was moving really well, putting everything back. I felt like a little bit under pressure, which I expected. But, yeah, then, like, I start telling myself that I have to move a little bit better. I try to focus on my movement. As I start focusing on my movement, I start feeling the rhythm better."
First, Sabalenka identified the problem (She felt anxious due to the pressure).
Then she refocused on her movement. In other words, instead of thinking, Sabalenka focused on the feel of the game, immersing herself in the moment.
Though it takes some practice, you can apply the same strategy to raise your game. Not only will your performance improve, but you will also be more consistent throughout the season.
Focus on the feeling of taking a deep, slow down your pace and breathing between points… Try to stick to your normal service routine or return routine.
Breathing helps ground you in the moment, help you regain your focus, and assist you in getting into the flow of the game.
---
Related Tennis Psychology Articles
*Subscribe to The Tennis Psychology Podcast on iTunes
*Subscribe to The Tennis Psychology Podcast on Spotify
---
Improve Your Mental Game for Tennis
Tennis Confidence 2.0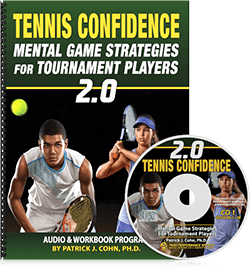 "Tennis Confidence: Mental Game Strategies for Tournament Players" is an audio and workbook program to help tennis players, coaches, and instructors improve the mental game of tennis is just 10 easy to learn sessions. Tennis Confidence: Mental Game Strategies for Tournament Players Audio and Workbook program is ideal for any junior, collegiate, and tour professional player. Tennis coaches and instructors would also be wise to teach the strategies "Tennis Confidence."
Tennis Confidence is a complete mental training program developed Peak Performance Sports. You learn the same strategies Dr. Cohn teaches his tennis players to help them improve mental toughness and consistency – from managing unrealistic expectations to coping with perfectionism.
Read more about Tennis Confidence Program>>