Positive Body Language in Tennis
All athletes know the importance of positive self-talk. What you say to yourself sets up how you perform in tough moments.
If you beat yourself up on the court, that negativity will manifest itself in mistaken-ridden play in matches.
While self-talk is critical, athletes communicate how they feel in another significant way… body language.
Your body sends powerful messages to your brain that affect your level of competitiveness and play on the court.
It also tells your opponent that you are upset or frustrated.
Negative body language such as shaking your head, hanging your head, poor posture, frowning, clenched hands or slamming your racquet create intense, negative and disruptive emotions.
All negative language leads to anxiety, frustration and under performance, so you must be vigilant as to the messages you are sending to yourself.
Rafael Nadal pays particular attention to his body language, especially during his dominant run to his 16th Grand Slam championship.
Nadal won his third US Open title by defeating Kevin Anderson in straight sets, 6-3, 6-3, 6-4 while hitting 30 winners and only11 unforced errors.
Even though Nadal won the final in convincing fashion, the victory marks the first time in Nadal's career in which he has rallied from a set down in three matches en route to a title.
Nadal appeared calm throughout the Grand Slam final, even though there were a few deuce games and break points in the first set.
NADAL: "No, I was not calm. I was nervous, but all the body language that is not in a positive way is stupid to make it, because it's going against you. [It] is one of the things that I tried to do all my life, that the body language helps me, not go against me. Because [body language] is one of the things that depends just on me, not on the opponent."
There are a couple of takeaways from Nadal's statement:
First, body language is a choice; it's under your control. Your body language is not controlled by your opponent, the line judge, the spectators or the match circumstances.
Second, choosing negative body language makes no sense at all. Choosing negative body language is like choosing to play without your racquet.
If you want to play at your peak, you need to arm yourself with the right equipment which includes the right attitude and mindset.
If you learn to master how you conduct yourself on the court, you will be able to keep your emotions in check and regulate the level of nerves you experience in competition.
For Better On-Court Body Language:
First, identify specific types of negative body language that you engage in during tennis matches, such as head down or slumping shoulders.
Next, identify when you have negative body language most often.
Is it after losing a set or after hitting several shots long? Look for the common scenarios that triggers these negative body behaviors.
Lastly, choose an alternative and positive behavior. For example, "When I hit a shot long, I will take a deep breath, lift my head and pull my shoulders back."
By being conscious of the messages you send yourself, you can replace those messages with more positive and self-enhancing messages.
---
Related Tennis Psychology Articles:
*Subscribe to The Tennis Psychology Podcast on iTunes
*Subscribe to The Tennis Psychology Podcast on Spotify
---
Improve Your Mental Game for Tennis
Tennis Confidence 2.0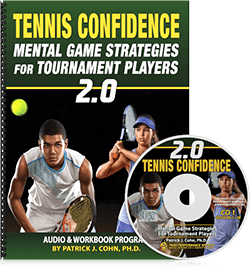 "Tennis Confidence: Mental Game Strategies for Tournament Players" is Dr. Cohn's program to help tennis players, coaches, and instructors improve the mental game of tennis is just 8 easy to learn sessions. Tennis Confidence: Mental Game Strategies for Tournament Players Audio and Workbook program is ideal for any junior, collegiate, and tour professional player. Tennis coaches and instructors would also be wise to teach the strategies in "Tennis Confidence 2.0."
Tennis Confidence is a complete mental training program developed Dr. Cohn. You learn the same strategies Dr. Cohn teaches his personal students to help them improve mental toughness and consistency – from managing unrealistic expectations to coping with perfectionism. 
Read more about Tennis Confidence Program>>