Mental Training to Improve Tennis Performance
What's the one thing holding you back from peak performance on the court?
If you were to ask a tennis player after a bad match as to the reason for their performance, rarely does that player talk about their technique.
Most tennis players attribute bad performances to some mental factor:
"I lost my confidence."
"I always play bad on that court."
"I couldn't get into the flow of the game."
"I had problems concentrating after I lost the first set."
"My emotions got the best of me after missing easy shots."
So how do most of these players go about trying to improve this part of their game?
They hit the court to put in more practice hours, take private lessons or hit hundreds to balls on the ball machine to work on their swing.
While putting in extra effort can elevate your consistency, physical work will not improve your mental game.
If you want to improve your mental game or overcome your own personal mental traps that keep occurring in matches, you need to dedicate time to mental training.
Mental training was a common thread that helped a few tennis players elevate their games at the 2017 US Open.
Coco Vandeweghe and Kevin Anderson both attributed their improved play under pressure to mental training. Vandeweghe and Anderson utilized mental game coaches to overcome previous mental hurdles and raise their game to the next level.
Vandeweghe upset Karolina Pliskova, 7-6 (4), 6-3 to advance to her first US Open semifinal but not without some obstacles to hurdle.
Vandeweghe, who had difficulty with emotional outbursts in the past, slapped several backhands into the net but maintained her focus and stayed composed to dig herself out of trouble and win the match.
Vandeweghe's tennis coach, Pat Cash, and her mental coach have helped her with the mental skills necessary to perform under pressure.
VANDEWEGHE: "I think the biggest thing [Cash has done] is channeling my intensity and tenacity out on the court, and putting it into a singular focus."
Kevin Anderson's play is another story coming out of the Open about how mental training improved performance.
Anderson won many critical points to beat Sam Querrey 7-6 (7), 6-7 (11), 6-3, 7-6 (9) in their quarterfinal matchup.
Anderson's new aggressive mentality gave him a decided advantage to remain focused and keep fighting throughout the tough match.
Anderson, in his post-match interview, talked about how working with a mental game coach has helped him break some bad mental habits and improve his game.
ANDERSON: "I just felt it [the mental game] was a part of my game I could maybe just get a bit better at. So many people say it's 90 percent mental. Everybody knows how to hit tennis balls, and we've been playing tennis so long that it's tough to make huge changes."
These performances are proof that past mental traps can be overcome to help you get the most out of your game, improve your consistency and unleash peak performance.
A Tip for Adding Mental Training to Your Regimen:
Review past performances and notice common mental mistakes that occur in your game.
You can also download this short test to help you with this:
Next think of how different you would play if you improved these mental areas.
Lastly, get expert help from others (coaches, mental training professionals, literature, etc.) that can help you start an effective mental training program.
---
Related Tennis Psychology Articles:
*Subscribe to The Tennis Psychology Podcast on iTunes
*Subscribe to The Tennis Psychology Podcast on Spotify
---
Improve Your Mental Game for Tennis
Tennis Confidence 2.0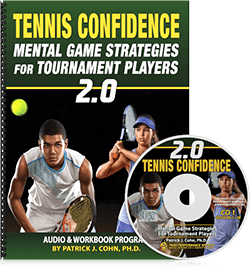 "Tennis Confidence: Mental Game Strategies for Tournament Players" is Dr. Cohn's program to help tennis players, coaches, and instructors improve the mental game of tennis is just 8 easy to learn sessions. Tennis Confidence: Mental Game Strategies for Tournament Players Audio and Workbook program is ideal for any junior, collegiate, and tour professional player. Tennis coaches and instructors would also be wise to teach the strategies in "Tennis Confidence 2.0."
Tennis Confidence is a complete mental training program developed Dr. Cohn. You learn the same strategies Dr. Cohn teaches his personal students to help them improve mental toughness and consistency – from managing unrealistic expectations to coping with perfectionism. 
Read more about Tennis Confidence Program>>