Improving On-Court Play Using Your Emotions
Are emotions good or bad when playing in a tight tennis match?
Many tennis players feel they need to play emotionless in order to play at a high level.
Playing without emotion is impossible. Every player, and person on the planet for that matter, experiences an emotion every second of the day.
There are other players who believe they need to suppress intense emotions to keep themselves from having negative reactions or outbursts during a match.
Suppressing emotions is also impossible and is not be beneficial to performance either.
Intense emotions will find their way to the surface somehow and, if you suppress those intense emotions, they will burst to the surface like a powder keg.
The key is to know which emotions help you and how to utilize them to your advantage. Some players can benefit from a little bit of anger while others spiral out of control.
For example…
You just double faulted to lose your serve.
All you want to do is smash your racquet and go into a tirade on the court.
If you hold those emotions in, you replay that double-fault over and over in your mind and lose focus.
You will become so tense and anxious that you feel slow and unable to react quickly.
On the other hand, if you recognize your anger for what it is, just an emotion, neither good nor bad, you can turn things around to your advantage.
You can express that anger, by blurting out, "Come on," then get motivated to stay aggressive and focus on your return game.
Jelena Ostapenko describes herself as an emotional player…
Ostapenko won the French Open last year and is looking to add to her Grand Slam total with hopes of eventually capturing the No. 1 ranking.
Ostapenko uses her emotions to her advantage to fuel her aggressive style of play.
OSTAPENKO: "Since I first started playing tennis, I never held back. I've always taken the chance to hit hard. Also, I've always been quite emotional. On the court, all the emotions come together and result in powerful play. That's my strategy: to be fearless, aggressive, and to win points by relying on my own strength."
While emotions can greatly lift your level of play, those same emotions can backfire if not kept in check.
Emotions are a double-edged sword. If you don't control emotions, those emotions will control you and cause you to implode on the court.
Learn to use your emotions to your advantage and you will have a huge edge on the court.
A Tip for Using Your Emotions to Fuel Your Play on The Court:
Not all emotions are bad for your tennis game. However, anger and frustration will usually hurt you game.
Review some of your past matches and uncover when you benefited from intense positive emotions.
What were those emotions and how did you harness those emotions?
Try to use that experience as a template for how you will respond in future similar matches.
You want to be ready to respond to any challenge during a match and control your emotions instead of your emotions control you.
---
Related Tennis Psychology Articles:
*Subscribe to The Tennis Psychology Podcast on iTunes
*Subscribe to The Tennis Psychology Podcast on Spotify
---
Improve Your Mental Game for Tennis
Tennis Confidence 2.0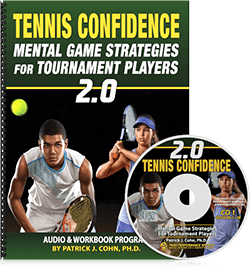 "Tennis Confidence: Mental Game Strategies for Tournament Players" is Dr. Cohn's program to help tennis players, coaches, and instructors improve the mental game of tennis is just 8 easy to learn sessions. Tennis Confidence: Mental Game Strategies for Tournament Players Audio and Workbook program is ideal for any junior, collegiate, and tour professional player. Tennis coaches and instructors would also be wise to teach the strategies in "Tennis Confidence 2.0."
Tennis Confidence is a complete mental training program developed Dr. Cohn. You learn the same strategies Dr. Cohn teaches his personal students to help them improve mental toughness and consistency – from managing unrealistic expectations to coping with perfectionism. 
Read more about Tennis Confidence Program>>