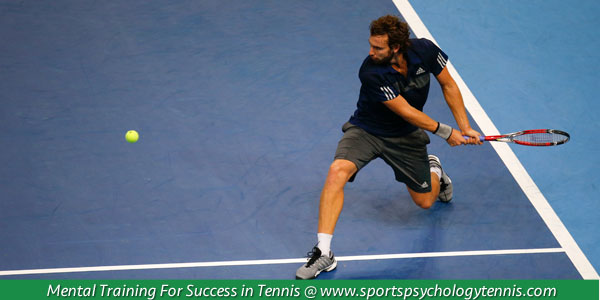 Mental Game Strategies to Overcome Adversity
How do you respond to adversity on the tennis court? Are you able to bounce back quickly after a bad game and play your best tennis or does adversity hurt your confidence or belief in your abilities?
How you respond to adversity is a direct result of your mindset.
If you have a negative mindset, when you lose a match that you were expected to win, it affects your confidence for the next match.
You begin to question your abilities and play tentatively. Your doubts seem to get the best of you and you run into a string of bad performances.
Working to developing a winning mindset will help you rebound from adversity and compete at your peak. Rebounding quickly is what champions are made of.
Rafael Nadal is ranked No. 1 in the world has 13 Grand Slam titles and 62 career titles. Nadal is referred to as the "King of Clay" for his dominance on clay surfaces.
Despite his success, Nadal is having a rough start to his 2014 season…
Heading into the Mutua Madrid Open, Nadal has lost his last three tournaments: the Sony Open in the finals (3-6, 3-6), the Monte-Carlo Rolex Masters in the quarterfinals (6-7, 4-6), and the Barcelona Open in the quarterfinals (6-2, 6-7, 4-6). Nadal's last two losses were on clay courts.
Nadal is heading into the Mutua Madrid Open with a positive mindset and is looking to rebound from his recent performances:
"When you come from tough moments like this, you come back with a little more intensity to try to be back as soon as possible."
A winning mindset allows you to focus on what you need to do now, instead of what happened in the past.
Nadal's wants to regain his championship form. He chooses to focus on the right things (hard work, determined effort and trust in his abilities):
"I'm here to fight and to try to play even better… I think I can change very small things, and the change can be quite drastic and quite big. That's what I'm working on right now."
Maybe even more telling of his mindset is his view of his losses, "When you lose, you have a hard moment, you have more doubts. But that's what happened. Maybe it's normal to lose three times in the quarter-finals."
Sometimes you lose matches, but that doesn't mean there is something wrong with your game. Nadal's confidence may be shaken but his belief in his abilities remains stable.
How you can rebound from adversity:
You want to keep a stable level of confidence– and not ride the confidence roller coaster. If you don't believe in your abilities, you will tend to give up easier and not take the risks necessary to play your best tennis.
Focus on your talents and strengths instead of dwelling on losing. The last point, match, game and tournament are over. The past can hurt your confidence if you let it.
If you want to bounce back from adversity and play your best tennis, commit to developing a winning mindset.
---
Related Tennis Psychology Articles
*Subscribe to The Tennis Psychology Podcast on iTunes
*Subscribe to The Tennis Psychology Podcast on Spotify
---
Improve Your Mental Game for Tennis
Tennis Confidence 2.0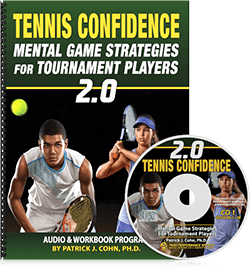 "Tennis Confidence: Mental Game Strategies for Tournament Players" is an audio and workbook program to help tennis players, coaches, and instructors improve the mental game of tennis is just 10 easy to learn sessions. Tennis Confidence: Mental Game Strategies for Tournament Players Audio and Workbook program is ideal for any junior, collegiate, and tour professional player. Tennis coaches and instructors would also be wise to teach the strategies "Tennis Confidence."
Tennis Confidence is a complete mental training program developed Peak Performance Sports. You learn the same strategies Dr. Cohn teaches his tennis players to help them improve mental toughness and consistency – from managing unrealistic expectations to coping with perfectionism.
Read more about Tennis Confidence Program>>