Nadal's Mental Approach at French Open
Are you resilient?
Does pain distract you during competition?
Or, are you able to maintain focus and push through?
Rafael Nadal recently clinched his 11th French Open, beating Dominic Thiem 6-4, 6-3, 6-2 in the final match.
Nadal missed a first serve 2-1, 30-love and walked over to his chair. His wrist was taped, and he immediately began cutting the tape off.
This was unusual for Nadal, and nearly three minutes passed before he walked back onto the court.
His left hand locked up at the beginning of the first set.
His trainer commented: "The fingers of which were pointing in various directions like a broken umbrella."
Afterwards, Nadal stated that, "It was cramping on the middle finger, but it was not a normal cramping."
"It was probably because I had the bandage here (wrist taped). That creates pressure and doesn't allow the right circulation. It was quick in that moment, and it was scary, because I was not in control of my finger. I just went straight to my chair and tried to cut the tape."
As Nadal stepped back onto the court after that three-minute delay, he committed a double-fault. Possibly distracted by the locking of his left hand.
However, after that miss, Nadal expressed a blank, almost ghostly stare that indicated he was not backing down. And he didn't.
He went on to beat Thiem 6-4, 6-3, and 6-2 to win his 11th French Open.
Nadal could have easily remained distracted with his hand cramps. He could have thought about the pain, the tape, the delay, or even how he might play for the rest of the match.
Though, he knew thinking about all of those things was only going to hurt his performance.
Distractions come all the time.
Athletes become distracted throughout a day.
Therefore, there's no use in trying to block out distractions. You'd be working harder, not smarter.
Instead of trying to ignore or block out distractions, understand what you want to focus on, such as visualizing a good serve, and immerse yourself into these cues.
Performance cues help you focus on what's relevant–especially after a distraction.
Focusing well doesn't mean you try to block distractions out, rather, you want to concentrate on what's important for you in that moment.
Nadal didn't allow his painful hand cramp, or a double-fault distract him and throw his off his game.
Instead, he focused on what was relevant for him to succeed and play one point at a time.
Again, distractions are inevitable. What's most important is your ability to quickly refocus on your performance in the moment.
---
Related Tennis Psychology Articles:
*Subscribe to The Tennis Psychology Podcast on iTunes
*Subscribe to The Tennis Psychology Podcast on Spotify
---
Improve Your Mental Game for Tennis
Tennis Confidence 2.0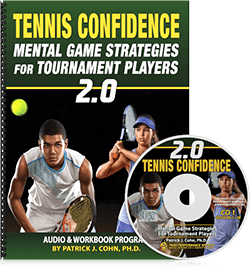 "Tennis Confidence: Mental Game Strategies for Tournament Players" is Dr. Cohn's program to help tennis players, coaches, and instructors improve the mental game of tennis is just 8 easy to learn sessions. Tennis Confidence: Mental Game Strategies for Tournament Players Audio and Workbook program is ideal for any junior, collegiate, and tour professional player. Tennis coaches and instructors would also be wise to teach the strategies in "Tennis Confidence 2.0."
Tennis Confidence is a complete mental training program developed Dr. Cohn. You learn the same strategies Dr. Cohn teaches his personal students to help them improve mental toughness and consistency – from managing unrealistic expectations to coping with perfectionism. 
Read more about Tennis Confidence Program>>