How Do You Know When You're in The Zone?
The zone is a state of supreme focus that help athletes perform at their peak when they become totally immersed into their performance.
Athletes depict the zone in many ways, such as the driver merges with the car; the tennis player joins her mind with the ball and court; the swimmer becomes one with the water; and so on.
Five-time champion at Flushing Meadows, Rodger Federer found the zone early in the opening round Monday night against 96th-ranked Brain Dabul. Federer hit 18 aces in his 6-1, 6-4, 6-2 victory, but no shot was more exciting than his between the leg shot in the second round.
"There is nothing you can do when he has those days," said Dabul. "He's perfect."
Many athletes view the zone as this magical, hard-to-obtain state of mind, but the zone is really not that complicated or hard to achieve with the right mindset.
If the zone is that simple, why can't athletes achieve this mindset every time they compete?
Top athletes like Rodger Federer know what thoughts trigger a mindset to access the zone, but some athletes are blocked from getting into the zone because they are overtaken by massive distractions such as fear of failure and worry.
"The court speed, surroundings, the event, and everything helps my cause to really focus on each task and play well," said Federer.
You can capture this state of immersion to enhance your performance and maximize your athletic potential by identifying specific triggers that have helped you find the zone in the past.
One way to do this is to think back to when you were performing in the zone and what you thought about.
What did it feel like for you? Can you imagine yourself in your next competition with the same level of confidence and focus?
Identify your self-talk when you are performing well or in the zone.
What was your self-talk like? What were the buzz words you apply to your self-talk?
Use these statements when you compete to help you find the zone. Once you identify the thoughts or buzz words that help you perform well you can use them to trigger your mindset to access the zone.
---
Related Tennis Psychology Articles
*Subscribe to The Tennis Psychology Podcast on iTunes
*Subscribe to The Tennis Psychology Podcast on Spotify
---
Improve Your Mental Game for Tennis
Tennis Confidence 2.0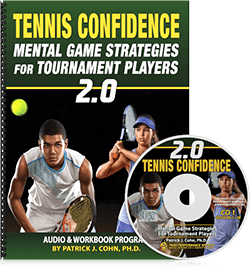 "Tennis Confidence: Mental Game Strategies for Tournament Players" is an audio and workbook program to help tennis players, coaches, and instructors improve the mental game of tennis is just 10 easy to learn sessions. Tennis Confidence: Mental Game Strategies for Tournament Players Audio and Workbook program is ideal for any junior, collegiate, and tour professional player. Tennis coaches and instructors would also be wise to teach the strategies "Tennis Confidence."
Tennis Confidence is a complete mental training program developed Peak Performance Sports. You learn the same strategies Dr. Cohn teaches his tennis players to help them improve mental toughness and consistency – from managing unrealistic expectations to coping with perfectionism.
Read more about Tennis Confidence Program>>