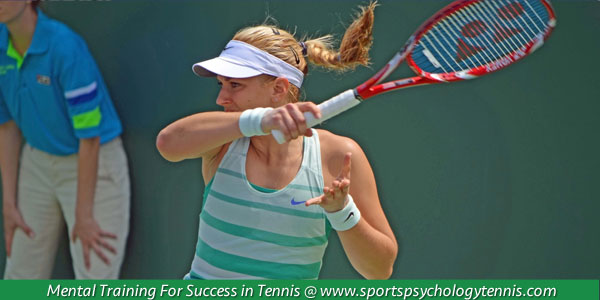 The Benefits of Momentum in Tennis
Confidence and momentum in tennis are close cousins.
When you have momentum, you have confidence squared. Yes, momentum is a huge psychological advantage in any sport especially tennis. Players feel a sense of exhilaration when they have momentum on their side – it's a huge boost to your mental game of tennis.
But momentum can backfire and become a threat to your tennis mental toughness….
Although momentum can give your mind game a boost, it must be contained or it can lead to making mental errors on the court. In addition, when you feel like you are losing momentum in the match to an opponent, your mind game can go into the tank.
Therefore, you have to beware of the some of the dangers that go along with this powerful confidence booster in tennis.
Momentum in tennis can lead to excitement or a thrill of playing well. This is a good thing for most players. The additional boost of excitement can cause the release of adrenaline in the blood stream.
You get a boost of energy and you feel pumped up, juiced, and focused. For experiences tennis players, they interpret this as a very positive feeling. They welcome this feeling when playing well, but they must throttle the additional boost of energy.
You also must be careful with the additional infusion of adrenaline that comes from momentum. You don't want it to cause you to play too aggressively or change your shot making.
Seasoned tennis pros know when to throttle back if the adrenaline bug bits. Amateurs experience the same physiology when pumped up on momentum. You hit a great backhand to earn yourself a break point in the match.
Your extra excitement and adrenaline helps you focus better, but you must account for the influence of adrenaline or you'll swing to the moon.
The other potential problem with momentum is when you had it and lost it. Confidence can turn into panic during the match when your opponent turns the momentum in his favor.
As one player asked:
 "How do I overcome a loss of momentum during a match? Often I win a number of games only to not win another for the rest of the set."
Momentum and a big lead has it advantages and disadvantages. Your advantage in tennis is when you fly to a big lead in the first set. Your opponent my feel devastated and unable to compete with you. On the other hand, big leads for some players can cause big crashes with their mental game.
I also think this has a lot to do with "comfort zones," which I have studied extensively, but will hold this topic for another article.
If you get out to a big lead with momentum on your side, you might get complacent or protect your lead.
Players who protect their lead – sit on their lead.
They begin to play defensively – not wanting to lose points instead of continuing to play offensively and trying to win points. Most likely, if you have a habit of building up a big lead only to lose the set, you protect the lead and give momentum back to your opponent.
Therefore, my inner game of tennis tip for today is to continue to play on offense.
Play aggressive tennis. Don't sit on your big lead. Put the set away as fast as you can without rushing.
---
Learn Proven Mental Game Strategies To Perform Your Best On The Court!
Are you (or your players) performing up to your ability in competition?
Do you bring your best and most confident game to matches?
Successful tennis players have learned how to perform with ultimate confidence in tournaments.
If you are ready to improve your mental toughness and perform with ultimate self-confidence in matches, Tennis Confidence: Mental Toughness For Tournament Players can help you do this!
Use Tennis Confidence to help boost your mental toughness in tennis and discover powerful and proven mental game strategies that have helped professional athletes win!
Tennis Confidence: Mental Toughness For Tournament Players
What are mental game customers saying?
"We are amazed at how much 'The Confident Athlete' program has helped my niece play her best tennis during matches. She literally made it to the farthest round of a tournament (semifinals) after finishing the CDs/workbook. We are going to do all five in the series."
~Jason Bourguignon, Uncle
---
Download Our Free Tennis Psychology Report!

Discover if you are making one or more of these "costly" unforced mental game errors during matches!
Download our free Tennis Psychology Report:
Six Unforced 'Mental Game' Errors Tennis Players Make Between Points
You'll discover:
How your mind can be your best or worst asset on the court.
If you are using your mind effectively between points.
One strategy that can help you let of go the last point.
The top mental game skills you need to master to boost your confidence and performance between points.
Click here to download your FREE report today: Six Unforced 'Mental Game' Errors Tennis Players Make Between Points
What are tennis players saying?
"Dr. Cohn did a great job working with my son Joe on his mental skills for tennis. He taught him the mental skills and discipline necessary to move to the next level. Thanks Doc!"
~Mike Withers, Joe Withers son
---
Boost Your Self-Confidence And Focus With Expert Mental Game Coaching!
Master mental game coach Dr. Patrick Cohn can help you overcome your mental game issues with personal coaching.
You can work with Dr. Patrick Cohn himself in Orlando, Florida or via Skype, FaceTime, or telephone. Call us toll free at 888-742-7225 or contact us for more information about the different coaching programs we offer!
What are our mental coaching students saying?
"Maggie had such a great weekend. As always, after she works with you she just seems more grounded and focused. She's less likely to look around and get distracted during her match. She's more focused on one point at a time. Also, as a parent, I've learned to encourage her process goals and not outcomes. Consequently, she played well and won her first doubles match, upsetting a seeded team in a really really close match!"
~Katherine Johnson Cannata, Maggie's mother