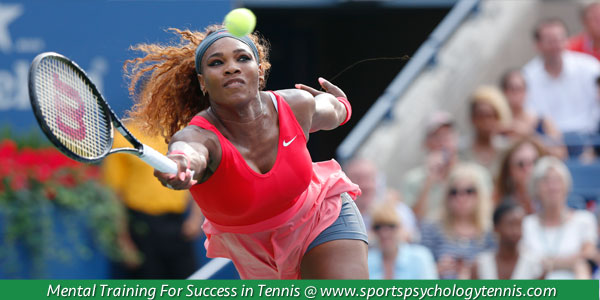 Staying Mentally Tough After Injuries
Participation in sport is a journey of highs (victories, great plays, higher rankings, beating the odds) and lows (losses, injuries, mistakes, underperforming).
The difference between elite athletes and non-elite athletes is in the ability to manage the highs and lows throughout their careers.
Non-elite athletes tend to get overwhelmed by adversity, which greatly affects their confidence and belief in succeeding in future events. Elite athletes exhibit "mental toughness" during low times and use adversity as motivation to bounce back quickly.
Venus Williams has been a mainstay and top-performer in women's tennis for the last 15 years. Venus is known for her agility, great court coverage, powerful serves and explosive ground strokes, but her greatest quality is her "mental toughness."
Venus' mental toughness has helped her overcome tough losses, injuries and low rankings on her path to three No. One WTA rankings, 44 careers singles titles and 632 career singles victories.
In 2014, Venus is facing another adverse situation as she is making a comeback from a back injury. Venus' back injury restricted her to just 11 tournaments last year and resulted in a current ranking of No 47 by WTA. Venus will rely on her "mental toughness" as she has dedicated herself to climb up the WTA rankings:
"I never set limits on myself, or anyone for that matter," she said. "I think the most surprising thing I have learned in life is you can accomplish a lot more than what you think you can if you allow yourself to do it and aren't afraid and don't hold back. With effort, you achieve so much."
In the ASB Classic tennis tournament held in Aukland, New Zealand this week, Venus displayed her mental toughness once again as she defeated experienced Austrian Yvonne Meusburger 4-6, 6-3, 6-2 in the second round. Venus made 42 unforced errors in the first two sets but eventually re-gained her form to secure victory in her one hour 53 minute quarter-final match.
Venus' key to success was her mental toughness (her ability to bounce back quickly and trust her abilities):
"Today was a lot about my winners and my errors. I made some spectacular winners and some spectacular errors, but in my head I just wanted to keep playing aggressive because that's my game and I know that as long as I keep doing that they'll start landing."
Venus committed to playing her game:
"It's not easy, but then if I stop being aggressive and start playing her game, that's when I'm really in trouble."
A component of Venus' "mental toughness" is the ability to remain confident during low times:
"I was just missing shots and eventually they are going to start going in. There are only so many you are going to miss. My mindset was that it was going to land."
Keys to Mental Toughness for Tennis:
You should understand adversity happens to every athlete, your response will define your legacy.
You want to use adversity as motivation to become a better player.
You want focus on what you can control and let go of what you can't.
You must trust your training and abilities and work to improve all aspects of your game.
You should finish strong in everything you do, especially in practice, and refuse to give up.
Instead of complaining about your situation, you need to find a way to improve it.
When you falter, you must learn the lesson and commit to change it.
"Mental Toughness" is a choice that requires commitment, dedication and work to develop but it will pay great dividends in your athletic and personal endeavors.
Check Out Our Tennis Mental Coaching Programs
---
Related Tennis Psychology Articles
*Subscribe to The Tennis Psychology Podcast on iTunes
*Subscribe to The Tennis Psychology Podcast on Spotify
---
Improve Your Mental Game for Tennis
Tennis Confidence 2.0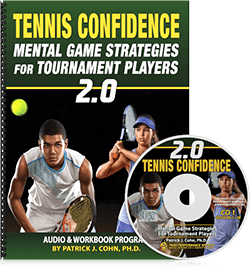 "Tennis Confidence: Mental Game Strategies for Tournament Players" is an audio and workbook program to help tennis players, coaches, and instructors improve the mental game of tennis is just 10 easy to learn sessions. Tennis Confidence: Mental Game Strategies for Tournament Players Audio and Workbook program is ideal for any junior, collegiate, and tour professional player. Tennis coaches and instructors would also be wise to teach the strategies "Tennis Confidence."
Tennis Confidence is a complete mental training program developed Peak Performance Sports. You learn the same strategies Dr. Cohn teaches his tennis players to help them improve mental toughness and consistency – from managing unrealistic expectations to coping with perfectionism.
Read more about Tennis Confidence Program>>