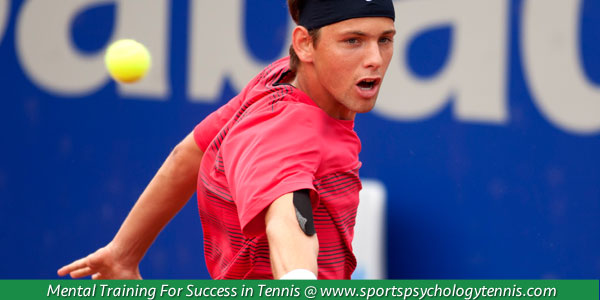 PreMatch Mental Warm-Ups
How many times have you had a bad warm-up prior to a tennis match and felt doomed to play poorly?
Think back to a warm-up where you miss-hit shots and lost your confidence…
You may have told yourself something along the lines of, "I can't touch my opponent's serve, it is wicked fast," "I don't have it today" or "I can't play well because the court conditions are horrible."
You probably felt your anxiety level slowly increase as the match approached…
You may have gone through the motions of your warm-up because you believed the result was a foregone conclusion.
All these thoughts are distractions that interfere with your focus and preparation for the match.
Moreover, these types of thoughts are illogical and based more on opinion than fact.
Illogical or irrational thoughts significantly increase anxiety.
Just because you have a thought doesn't make it true. So what if your opponent's serve is fast? That doesn't guarantee he will get his first serve in or that the serve can't be returned.
And just because you feel like you don't "have it" or court conditions are less than favorable does not mean that you can't play at a high level.
But when you "buy in" to these types of thoughts, you have lost before you've even started.
The purpose of warm-up is not to predict the outcome of the match.
The function of warm-up is to get your equipment, body and mind ready for the match.
Not only does a pre-match routine warm up your body for the upcoming match but it helps you attain optimal levels of intensity, focus and confidence.
Your pre-match routine should gradually lead you to that unique mental state that helps you play your best tennis.
Routines enhance familiarity with the competitive environment and increase a sense of control.
Performing your routine has a "normalizing" effect on tennis players which conditions your mind and body to view the upcoming competition as "just another match."
If you adopt a consistent routine that you commit to doing prior to each match, you ill warm up your mind too with greater focus, confidence, and focus for the match.
Try these tips to mentally warm up for a tennis match:
Tip #1: You should develop your own personal pre-match routine. Perform it consistently no matter the importance of the match. Consider everything you need to do to prepare yourself for the match: nutrition, hydration, equipment, physical warm-up, match strategy and mental preparation (relaxation, imagery, self-talk, etc.)
Tip #2: You need to learn to counter illogical thoughts or doubts when they arise. Debate those thoughts then quickly return your focus on what you need to do right now!
Successful tennis players have learned how to perform with ultimate confidence in tournaments. We've developed Tennis Confidence: Mental Toughness For Tournament Players to help you do this.
---
Related Tennis Psychology Articles
*Subscribe to The Tennis Psychology Podcast on iTunes
*Subscribe to The Tennis Psychology Podcast on Spotify
---
Improve Your Mental Game for Tennis
Tennis Confidence 2.0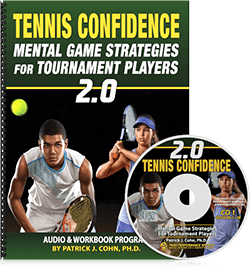 "Tennis Confidence: Mental Game Strategies for Tournament Players" is an audio and workbook program to help tennis players, coaches, and instructors improve the mental game of tennis is just 10 easy to learn sessions. Tennis Confidence: Mental Game Strategies for Tournament Players Audio and Workbook program is ideal for any junior, collegiate, and tour professional player. Tennis coaches and instructors would also be wise to teach the strategies "Tennis Confidence."
Tennis Confidence is a complete mental training program developed Peak Performance Sports. You learn the same strategies Dr. Cohn teaches his tennis players to help them improve mental toughness and consistency – from managing unrealistic expectations to coping with perfectionism.
Read more about Tennis Confidence Program>>