How to Manage Your Expectations on The Tennis Court
When you lose your cool on the tennis court, do you give up, thank or start pushing the ball?
In this week's tennis psychology podcast, mental game of tennis expert, Dr. Patrick Cohn answers a question from Sarah who needs help managing her expectations.
Here's what Sarah had to say about her game:
"I'm 14 years old an have been playing tennis for about 8 years. Once of my coaches calls me a bull because I'm always so stubborn and get so upset when I do something wrong but the only reason I get upset is because I know I can do better but when I get upset its like i just stop trying. I give up. So I've been trying to find ways to keep my cool and stay mentally tough. I hate losing and then I get all the thoughts of what people are going to think f me, especially my parents. Ive been trying to deal with this but I cant and as soon as is tart to think of it, i start to push the ball in the court or hit extremely had for no reason. I can be extremely hard on myself and I could really use your help."
COHN: Part of the reason that your hard on yourself and that you get easily frustrated and hate losing is because it it sounds like there is some perfectionism that you have with your game
COHN: Now, what goes with the perfectionism?
COHN: One of the things that goes with the perfectionism is very high expectations for your performance, even in a practice situation when your coach sees that, where you're not being able to learn fast enough or you miss hitting shots and you probably get upset.
COHN: I don't think its so much about being stubborn or being a bull as it is that you demand so much of yourself that you price in perfection in terms of your performance.
COHN: Whats the challenge with perfectionism? What can you do?
Listen to the audio below to hear what Dr. Cohn recommends you can do to manage your perfectionism and expectations:
---
Related Tennis Psychology Articles
*Subscribe to The Tennis Psychology Podcast on iTunes
*Subscribe to The Tennis Psychology Podcast on Spotify
---
Improve Your Mental Game for Tennis
Tennis Confidence 2.0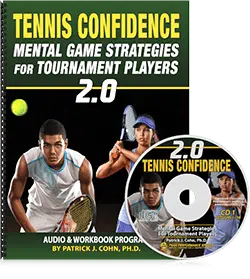 "Tennis Confidence: Mental Game Strategies for Tournament Players" is an audio and workbook program to help tennis players, coaches, and instructors improve the mental game of tennis is just 10 easy to learn sessions. Tennis Confidence: Mental Game Strategies for Tournament Players Audio and Workbook program is ideal for any junior, collegiate, and tour professional player. Tennis coaches and instructors would also be wise to teach the strategies "Tennis Confidence."
Tennis Confidence is a complete mental training program developed Peak Performance Sports. You learn the same strategies Dr. Cohn teaches his tennis players to help them improve mental toughness and consistency – from managing unrealistic expectations to coping with perfectionism.
Read more about Tennis Confidence Program>>