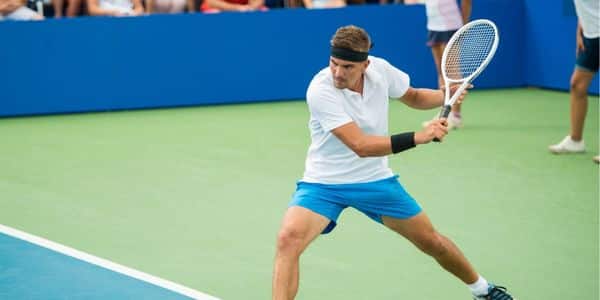 Why is Your Mental Game Important?
Tennis is a mental game. You've probably at some point in your tennis career lost focus, composure, or had trouble regaining confidence and momentum during a match.
If you've struggled with any of these mental challenges, you know how important the mind game of tennis is. The mental game of tennis is important for tennis pros as well.
At the Chennai Open, Marin Cilic experienced the mental grind of a tennis match. Cilic reached the finals only to compete against Stanislas Wawrinka, a player he's never beaten before on four different occasions. Wawrinka lead the first set 5-3 breaking Cilic's serve. Cilic then battled back in the first set to even it at 5-5 and ended up pulling out the first set in a tiebreak. In a thrilling 2 hour 40 minute match, Cilic clenched his first victory against Wawrinka winning the title and the match, 7-6 (7-2), 7-6 (7-3).
"This was the longest final I have played in and also the toughest. It was a mental battle out there with a lot of long rallies and returns. It is not easy to maintain your top game over such a long match. It makes me very proud that I have once again come out well in the first week. It was not easy to adjust to the heat. A lot of sweat and hard work went into winning this week. I am very pleased really, very happy," said Cilic.
Long, grueling matches can make it difficult to stay patient and focused for the entire match. You might become impatient trying to end the point too quickly. You might focus on your missed chances to win the set. You might question your ability to pull out the match. All of these thoughts don't help you perform your best.
Maintaining your focus is crucial during long matches. Tiebreakers especially challenge your focus when every point counts.
"The two tiebreaks … it was important for me to win the first one to get the mental advantage as it had a lot of rallies, it had a lot of running, and the match went for almost three hours. It wasn't easy to maintain yourself on the court all the time mentally and to stay focused," said Cilic.
When you lose your focus on the match, stop, regroup and refocus on what's important. You have plenty of time in between points to refocus from distractions. Put the last point behind you and approach the next point as if it were the very first point of the match.
Think of the next point as starting the match without any mistakes. Once you're ready to play the point, focus on the cues that matter most, such as the placement of your serve or return of serve.
Your Tennis Psychology Tip For Today
Stay patient and pace your focus during long matches. Stay committed to your strategy, focus on what's important and keep believing in your ability to win the match.
---
Boost Your Self-Confidence and Focus with Expert Mental Game Coaching Tennis Mindset
Learn how to boost your mental game of tennis and develop the confidence of a champion quickly and effortlessly with tennis mental game coaching!
If you're not performing up to your potential in matches, most likely your mental game is holding you back. Are you so frustrated with your performance you feel like giving up? Does your confidence evaporate when you play in tournaments? Are you tired of working hard in practice and not getting any results in matches?
We can help you uncover the beliefs and attitudes that keep you from performing to your potential.
Complimentary 15-Minute Coaching Session
Call Us Today to Schedule Your Free 15-Minute Session.
Find Out How You Can Benefit From One-on-One Mental Coaching!
888-742-7225 | 407-909-1700
Please contact us today to learn how mental coaching works and to request pricing on all mental training programs for tennis players. Complete the form below to contact us via email or call us toll-free at 888-742-7225