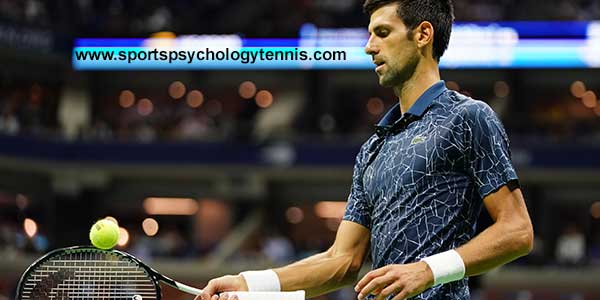 How to Have Consistent Confidence
What are the ingredients of unshakeable confidence? A common characteristic among elite tennis players is a strong belief in their athletic abilities.
Many tennis players are confident when performing well but see a drastic decline when they experience adversity. Even a series of mistakes is enough for some athletes to lose confidence.
In our Mental Game of Tennis Needs Survey, a high school tennis player asked for help with her "lack of confidence in her natural ability when serving."
Your concern is not your ability to hit a strong serve but maintaining confidence when your serve is off, which is common for many tennis players.
In other words, your confidence is based on how you are performing in the moment. It's the idea that you are only as confident as your last point.
When your belief in your abilities is based on performance, your confidence will drop significantly at the first sign of trouble.
What you need is to develop stable or unshakeable confidence.
Unshakeable Confidence Has Three Core Elements:
Knowing who you are – A tennis player with unshakeable confidence can clearly identify their strengths, positive attributes, and characteristics. They know how they respond to adversity and challenges. The opinions of others do not define them.
Knowing what you want to achieve – A player with unshakeable confidence has clearly defined goals. These goals push themselves to expand their potential. Not only are their goals well defined, but they also have a goal plan or road to success.
Knowing you have the capability to achieve your goals – An athlete with unshakeable confidence believes in their talents and ability to develop the necessary skills to accomplish their objectives.
How do You Develop Unshakeable Confidence?
1. You take a hard look at yourself, but not in a judgmental manner. Instead, you objectively assess your physical, technical, and mental skills.
You not only define yourself by your strengths, but you also look for ways to make your strengths even better. You are committed to improving your game and know you will do whatever it takes to fulfill your dreams.
2. You have sound goal-setting strategies. You set tangible, clear goals.
You understand what you need to do and have a plan of attack. You are determined to overcome any obstacle in your way.
3. Most importantly is the belief in your abilities, work ethic, and mental game.
You may not have every skill necessary at the moment to achieve your goal, but you are motivated to hone your skills to push your limits. You know you have what it takes!
Since winning the 2021 US Open, Emma Raducanu has experienced her share of adversity, including injuries, COVID-19, and inconsistent play in majors.
At her 2022 US Open campaign, Raducanu quickly fell to Alize Cornet 6-3, 6-3 in 1 hour, 42 minutes.
Despite her season, Raducanu has not lost her confidence.
"Personally, I think I know what I'm doing. I'm trusting what I'm doing and the work I'm doing. I'm still 19, and I've already won a Grand Slam, so I can take my time and put things in place because I know my motivation isn't any less" she said.
Raducanu's confidence is not based on wins and losses. Of course, your confidence may take a hit when you play poorly over a while.
That's normal. However, in these instances, your confidence will remain relatively high.
Since no tennis player is born with stable confidence, you need to commit to putting in the work you are more than capable of doing.
When you are not on the court, think of different scenarios where it is a struggle to maintain your confidence.
Ask yourself, "How would a tennis player with unshakeable confidence respond?" Then, visualize yourself acting in that manner. Repeat visualizing that same scenario 3-5 times per day.
You can also think about: How would the most confident player I know respond in this situation?
---
Related Tennis Psychology Articles
*Subscribe to The Tennis Psychology Podcast on iTunes
*Subscribe to The Tennis Psychology Podcast on Spotify
---
Improve Your Mental Game for Tennis
Tennis Confidence 2.0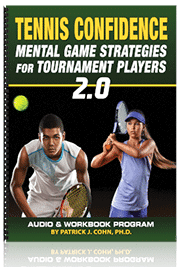 This "Tennis Confidence: Mental Game Strategies for Tournament Players" is Dr. Cohn's program to help tennis players, coaches, and instructors improve the mental game of tennis is just 8 easy to learn sessions. Tennis Confidence: Mental Game Strategies for Tournament Players Audio and Workbook program is ideal for any junior, collegiate, and tour professional player. Tennis coaches and instructors would also be wise to teach the strategies "Tennis Confidence."
Tennis Confidence is a complete mental training program developed Dr. Cohn. You learn the same strategies Dr. Cohn teaches his personal students to help them improve mental toughness and consistency – from managing unrealistic expectations to coping with perfectionism.
Read more about Tennis Confidence Program>>