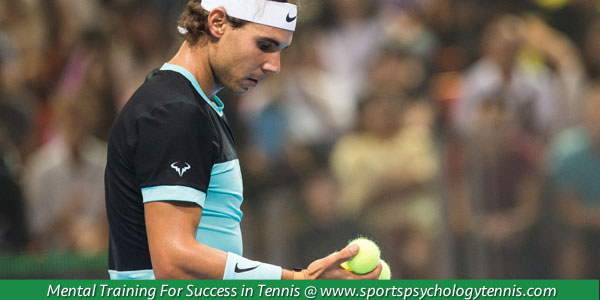 Focusing On Yourself – Not Your Opponent
What is your mindset when playing a higher-ranked opponent? Are you able to maintain your composure, focus on your game and play your best tennis?
Often when a tennis player faces a higher-ranked opponent, they alter their game… You may try to "play it safe" or "play not to lose."
Instead of going for your shots, you may try to just get the ball in play and hope your opponent hits an unforced error. This mindset never works!
Not playing "your game" is an admission to yourself and your opponent that you believe you have no chance to win.
When you freak out because of your opponent's high rank, your opponent senses that fear and, like a shark, they go on the attack and dictate the entire flow of the game.
The optimal way to play against a top-seeded player is to focus on your game and not your opponent.
You need to adopt the same aggressive style you use when playing lower-ranked players, go for your shots, play to your strengths and stick to your game plan – this will give you the greatest chance of beating your opponent.
Fabio Fognini has proved that "playing your game" can result in strong play and match victories even against top-ranked opponents.
Fognini (32-seed) faced two-time U.S. Open champion Rafael Nadal (98-seed) in a 3rd round match at the 2015 U.S. Open.
Nadal has an impressive resume at Flushing Meadows having won 22 of his previous 23 U.S. Open matches.
Nadal took a commanding 2-0 lead heading into the third set but Fognini remained unfazed and kept going for winners.
In fact, Fognini hit an amazing 70 winners to mount one of the greatest upsets and comeback victories of all-time, 3-6, 4-6, 6-4, 6-3, 6-4. Fognini called the win against Nadal a "mental victory."
The key to Fognini's "mental victory" was to follow the same approach he has utilized successfully in the past which is taking high risks and going for winners.
Even though Fognini hit 58 unforced errors, he never backed down or played it safe… Fognini kept going for winners down the line.
FOGNINI: "With Rafa, you have to risk. You have to attack him when you have the chance. He is one of the best passing players in the world, if not the best. That [going for winners] is what I think I was doing really well tonight."
Tips for beating a top-ranked tennis opponent:
Tip #1: You should enter the match with a strategy for victory. Review past victories. What approach brought about success? How can you apply that to your current match? Your best chance to succeed is to play the way you do against any other player.
Tip #2: You need to remain calm when some points don't go your way. Remind yourself of your strategy, stay aggressive and go for your shots.
Check out our video of the week, How To Manage Perfectionism In Athletes
---
Related Tennis Psychology Articles
*Subscribe to The Tennis Psychology Podcast on iTunes
*Subscribe to The Tennis Psychology Podcast on Spotify
---
Improve Your Mental Game for Tennis
Tennis Confidence 2.0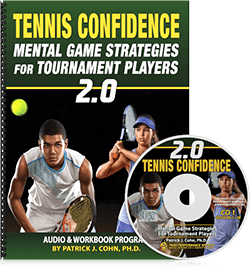 "Tennis Confidence: Mental Game Strategies for Tournament Players" is an audio and workbook program to help tennis players, coaches, and instructors improve the mental game of tennis is just 10 easy to learn sessions. Tennis Confidence: Mental Game Strategies for Tournament Players Audio and Workbook program is ideal for any junior, collegiate, and tour professional player. Tennis coaches and instructors would also be wise to teach the strategies "Tennis Confidence."
Tennis Confidence is a complete mental training program developed Peak Performance Sports. You learn the same strategies Dr. Cohn teaches his tennis players to help them improve mental toughness and consistency – from managing unrealistic expectations to coping with perfectionism.
Read more about Tennis Confidence Program>>