How to Comeback From a Layoff With Confidence
Layoffs are inevitable in the sport of tennis if you play long enough. Nagging injuries, season-ending injuries, illness and personal issues are some of the causes of layoffs in your athletic career.
The duration of the layoff affects both your physical and mental readiness to return to your previous level of play.
It can be challenging to get ready physically to compete after a layoff.
Physical strength, speed, reaction time, timing and endurance take a lot of time rebuild. To be physically ready, you have to work yourself into playing shape.
Not only do you have to rebuild your strength and stamina, the biggest hurdles to overcome is the mind game and returning to competition with confidence:
Rehabbing from injury requires that you deal with frustration, discomfort and fears.
Returning to competition calls for you to manage the unrealistic expectations that you should just pick up where you left off.
Mentally pushing yourself to improve endurance is an important factor for a successful comeback.
Reworking aspects of your technique requires a strong focus to reinforce positive technical habits.
Dealing with poor workouts takes a LOT of mental strength in order to stay motivated and continue working towards your return to competition.
Getting over the fear of failure and the need to be perfect are potential challenges you need to work through in order to successfully return to competition.
Physical readiness to compete first requires the mental readiness to prepare.
Serena Williams is a great example of an athlete whose strong mental skills put her in the best possible position for a successful return to tennis.
Serena, 36, is a 23-time Grand Slam champion and has spent the majority of her career atop the world of women's tennis.
Serena has returned to competition following a thirteen month layoff after dealing with scary health complications, including blood clots forming in her lungs from giving birth to her first child.
Although Williams has her sights on winning at least 25 Grand Slam titles, which would break the record held by Margaret Court, Williams is definitely taking things one step at a time.
WILLIAMS: "I have long-term goals obviously. Right now my main goal is just to stay in the moment."
Returning to competition is a process… a process that requires patience, physical endurance and mental strength to deal with the ups and downs if you are to have a successful return to tennis.
WILLIAMS: "It's definitely the start of a long process. You have to start, and I'm ready… I've been fighting against all odds to be out there, to be competing again. Every day I get better and I get stronger, and that's just something I always keep telling myself every day. Be better."
The lesson…
Be patient. Be diligent. Be mentally strong.
And focus on the process of getting better each and every day
A Tip For Returning to Tennis After a Long Layoff:
To stay focused on the process, set daily practice objectives and weekly goals.
What would you like to accomplish in training this week? What would move you forward in training this week? How will you measure improvement?
Keeping track of small goals will allow you to focus on the process and build your confidence with each step forward.
Please don't turn your goals into expectations–there is a big difference in striving to attain goals and the pressure you feel to meet expectations!
---
Related Tennis Psychology Articles:
*Subscribe to The Tennis Psychology Podcast on iTunes
*Subscribe to The Tennis Psychology Podcast on Spotify
---
Improve Your Mental Game for Tennis
Tennis Confidence 2.0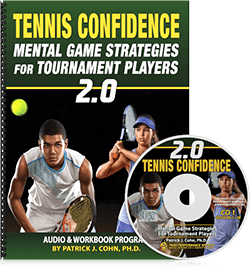 "Tennis Confidence: Mental Game Strategies for Tournament Players" is Dr. Cohn's program to help tennis players, coaches, and instructors improve the mental game of tennis is just 8 easy to learn sessions. Tennis Confidence: Mental Game Strategies for Tournament Players Audio and Workbook program is ideal for any junior, collegiate, and tour professional player. Tennis coaches and instructors would also be wise to teach the strategies in "Tennis Confidence 2.0."
Tennis Confidence is a complete mental training program developed Dr. Cohn. You learn the same strategies Dr. Cohn teaches his personal students to help them improve mental toughness and consistency – from managing unrealistic expectations to coping with perfectionism. 
Read more about Tennis Confidence Program>>