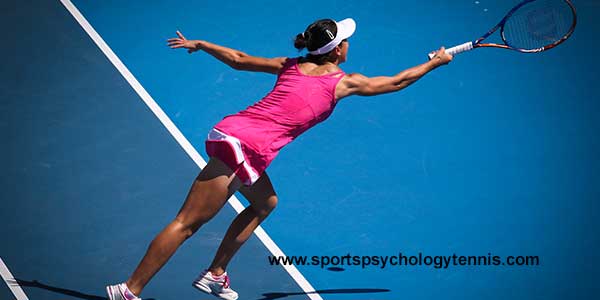 Control What you can Control
How have you been sidelined due to the coronavirus?
Do you feel there is anything you can do while "stuck" at home?
What kind of sport-specific changes have you made to make the best of the situation?
The coronavirus has been taking a toll on athletes throughout the world. Fear and anxiety are the two predominant feelings experienced by tennis players.
Fear of losing scholarships, sponsorships, income opportunities, playing time and training, on top of the fear associated with the coronavirus pandemic, increase the mental stress experienced by tennis players.
Processing the coronavirus has been troublesome to say the least. When you are dealing with the unknown (when will you be able to compete again and under what circumstances), stress and fear become the dominant thoughts in your mind.
When you do not have a constructive outlet for pent-up energy, the problems associated with the coronavirus escalate.
In our Mental Game of Tennis Survey, a tennis player summed up her fear in two sentences,
"Thinking about tennis, now that I have been away from playing, makes me so anxious. What if I never get back to the level I once played?"
Anxiety takes a toll on you mentally and physically. When you experience anxiety, you feel worn down, lethargic and tense. You, also, feel out of shape and question if you will ever regain your previous level of play. Even holding a racquet in your hand feels uncomfortable and awkward.
You feel "off" mentally as well. You feel anxious and less motivated. You no longer feel like the confident player you were prior to the stay-at-home mandate. It is hard to get into a day-to-day routine, let alone working out at home.
The source of anxiety is the result of trying to control factors that are outside of your control.
When you are faced with a long layoff due to circumstances beyond your control, such as injury, loss of playing time or a virus such as COVID-19, you can regain control by being patient, persistent and maintaining a positive attitude.
Former No. 1, Naomi Osaka, was looking forward to competing in the 2020 Olympics before the cancellation of the games due to the coronavirus.
OSAKA: "I've been thinking about how to articulate my thoughts on this for a couple of days now, so here goes. Everyone knows how much the Olympics means to me and how proud I will be to participate in my home country [Japan]. Of course, I am disappointed that [the Olympics] won't happen this year, but we'll all be ready to go stronger than ever in 2021."
Osaka acknowledged her disappointment of the Olympic postponement, but she was able to process her circumstances and focus on being ready when tennis restarts.
You may not be able to control the coronavirus pandemic, the scheduling of the season, practicing with your team or where you practice, but you can feel empowered by focusing on what you can control: your attitude and your mental preparation.
Empowering Yourself
What things can you control and what are the things you cannot control right now?
Ask yourself the following questions to process your circumstances:
1. What am I worried about?
2. Are these aspects outside of my control?
3. What can I SPECIFICALLY do to regain control?
4. How will these controllable aspects help my tennis game?
Focusing on the things you can control takes anxiety out of the equation.
---
Related Tennis Psychology Articles:
*Subscribe to The Tennis Psychology Podcast on iTunes
*Subscribe to The Tennis Psychology Podcast on Spotify
---
Improve Your Mental Game for Tennis
Tennis Confidence 2.0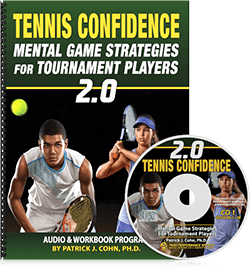 "Tennis Confidence: Mental Game Strategies for Tournament Players" is Dr. Cohn's program to help tennis players, coaches, and instructors improve the mental game of tennis is just 8 easy to learn sessions. Tennis Confidence: Mental Game Strategies for Tournament Players Audio and Workbook program is ideal for any junior, collegiate, and tour professional player. Tennis coaches and instructors would also be wise to teach the strategies in "Tennis Confidence 2.0."
Tennis Confidence is a complete mental training program developed Dr. Cohn. You learn the same strategies Dr. Cohn teaches his personal students to help them improve mental toughness and consistency – from managing unrealistic expectations to coping with perfectionism.
Read more about Tennis Confidence Program>>