Bouncing Back After Losing a Match
A previous loss can complicate a tennis player's focus. A tennis match is already full of potential distractions, but now you also need to overcome those thoughts of "the last time I played her…"
When you are facing a player who beat you the last time you played, you may expect a repeat of history and this expectation puts more pressure on you as you attempt to avenge your previous meeting.
The increased pressure you feel can cause you to try too hard, press and attempt to hit winners from the baseline.
With so much pressure on you to avenge your previous loss, your focus gets out of whack and your nerves become unmanageable during the match.
Every point has an exaggerated sense of importance which makes any mistake feel devastating.
Soon, one mistake snowballs into several and you find yourself again on the brink of another loss to the same opponent, and saying "Here I go again…"
No. 2 ranked Angelique Kerber set out to avenge a loss to Monica Puig at the 2017 WTA Dubai Duty Free Tennis Championships.
Six months earlier, Kerber was defeated by unseeded Puig, 6-4, 4-6, 6-1 at the 2016 Rio Olympics in the gold medal final.
Kerber acknowledged the loss, but was focused forward on her upcoming match against Puig rather than holding tightly to that unfavorable loss in the past.
Kerber said the Rio loss had no bearing on her current match.
KERBER: "For sure, she's a tough player and she's playing really aggressive. I know that from the match in Rio. But for me it's the same… I go out there trying to play my game again, and I will not be thinking too much about the match in Rio. She played an unbelievable match and she won it. So tomorrow I will try to go out there and win the next one."
In their third round matchup at Dubai, Kerber dominated Monica Puig 6-2, 6-3 in less than an hour.
The question is:
How was Kerber able to avenge her previous loss without dwelling on the past?
KERBER: "I was trying to play my game. I'm really happy about how I played today. I was really trying to stay focused on every single point and trying to move well, bringing a lot of balls back. I was just thinking about my game, about my rhythm, and not thinking too much about my opponent tonight."
In other words, of course Kerber wanted redemption.
First, Kerber realized that a loss is a loss.
It is just a match and the past has no power in the present unless you choose to hold onto it.
Second, Kerber tried to focus on one point at a time.
It's important to emphasize that Kerber said "trying to stay focused." Even the top players become distracted.
Every tennis player's mind will drift at times. That is totally normal. The key is to catch yourself when your mind wanders and re-focus on the current point.
Next, Kerber focused on her game and her strategy for each point.
Lastly, Kerber found her rhythm by not overthinking or over-analyzing.
That is called being "in the zone."
So, avenging a loss is a matter of letting go of the past. The past does not dictate the future in tennis. However, you do want to learn from the previous match.
Coming back stronger is about learning and immersing yourself in the process of playing your game in the current match.
You too can be an "Avenger" if you follow Kerber's lead.
Tips For Letting Go of Past Matches
The past has no power in the present. You give power to the past when you dwell on it in the present.
Say to yourself, "Focus on my plan going forward. The past is history."
Then remind yourself of your strategy for the next point.
Define what to focus on for each point. Know what distractions haunt you. Refocus when you start to think ahead or in the past.
---
Related Tennis Psychology Articles:
*Subscribe to The Tennis Psychology Podcast on iTunes
*Subscribe to The Tennis Psychology Podcast on Spotify
---
Improve Your Mental Game for Tennis
Tennis Confidence 2.0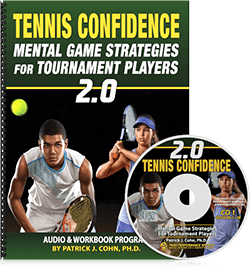 "Tennis Confidence: Mental Game Strategies for Tournament Players" is Dr. Cohn's program to help tennis players, coaches, and instructors improve the mental game of tennis is just 8 easy to learn sessions. Tennis Confidence: Mental Game Strategies for Tournament Players Audio and Workbook program is ideal for any junior, collegiate, and tour professional player. Tennis coaches and instructors would also be wise to teach the strategies in "Tennis Confidence 2.0."
Tennis Confidence is a complete mental training program developed Dr. Cohn. You learn the same strategies Dr. Cohn teaches his personal students to help them improve mental toughness and consistency – from managing unrealistic expectations to coping with perfectionism. 
Read more about Tennis Confidence Program>>