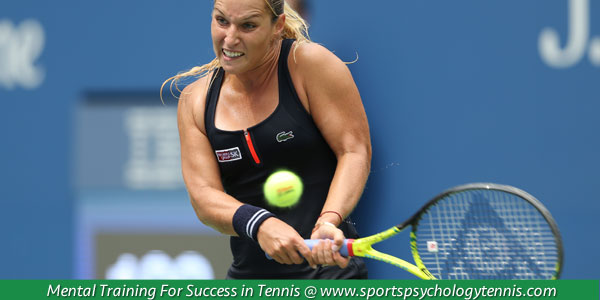 Overcoming Tennis Slumps
Are you in the middle of a slump? Does it feel like you will never break the string of lost matches?
Every tennis player has periods where their performance slumps. It's a normal part of the game.
But your attitude towards your slump will determine the length of your slump.
If you over-think your performance, doubt your ability to regain your form, focus on the mounting losses and fear the continuance of your negative streak, you will become fully entrenched in the cycle of poor performance.
Eugenie Bouchard is a promising young tennis player who is the midst of a difficult slump.
Bouchard had a breakout year in 2014, reaching the finals in Wimbledon and a WTA No. 5 ranking. In 2015, Bouchard has steadily slid down the rankings to No. 25 and lost 13 out of 15 matches including a first-round loss to Belinda Bencic (6-0, 5-7, 6-2) at the 2015 Rogers Cup.
Tennis commentator and former top-ranked tennis player Tracy Austin provided some insight on Bouchard's slump.
Austin won the U.S. Open at the age of 16 but also battled injuries, slumps and self-doubt over her 16-year career.
AUSTIN: "When you're playing your best, you play on instinct and you're not thinking, you make the right shot selection and you're thinking clearly about strategy, you recognize situations, you just react."
"But when you're in a slump, you have these doubts as to what shots to try and when you go to pull the trigger; you're totally unsure where it's going to go. Instead of just playing, you have so many questions in your mind and it's very foggy."
It is extremely important to arm yourself with the proper attitude to get back to improved play.
Finding Your Way Out of a Slump
You need to be patient and relaxed. Stop overthinking and overanalyzing. Stop worrying about all the 'what ifs.' ("What if I can't get my serve in?" "What if I lose this set?" "What if I never break out of this slump?')
Worry and fear only continue the downward trend of bad play on the court.
Many tennis players try hard to work their way out of their slumps. These players experiment or tinker with their technique and attempt to try harder which causes them to over-focus and further disrupt performance.
In order to guide yourself out of your slump, you want to take the pressure off yourself. Less pressure requires that you trust your ability, trust your training and understand that peaks and valleys are a commonality among every athlete.
Instead of expending all your effort and focus trying to work your way out of a slump, let your performance happen.
You will soon return to your previous level of play if you can merely get out of your own way. If you want to quickly get unstuck, you must stay in the present.
Tip for Playing Your Way out of a Slump:
Adopt the mindset of "play through your slump" instead of "working your way out of your slump." It may sound like a subtle difference but that small difference can improve your perspective and help you rebound more quickly to playing your best tennis.
Successful tennis players have learned how to perform with ultimate confidence in tournaments. We've developed Tennis Confidence: Mental Toughness For Tournament Players to help you do this.
---
Related Tennis Psychology Articles
*Subscribe to The Tennis Psychology Podcast on iTunes
*Subscribe to The Tennis Psychology Podcast on Spotify
---
Improve Your Mental Game for Tennis
Tennis Confidence 2.0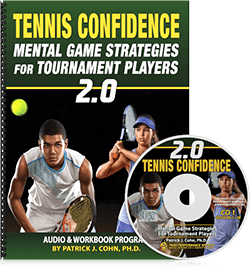 "Tennis Confidence: Mental Game Strategies for Tournament Players" is an audio and workbook program to help tennis players, coaches, and instructors improve the mental game of tennis is just 10 easy to learn sessions. Tennis Confidence: Mental Game Strategies for Tournament Players Audio and Workbook program is ideal for any junior, collegiate, and tour professional player. Tennis coaches and instructors would also be wise to teach the strategies "Tennis Confidence."
Tennis Confidence is a complete mental training program developed Peak Performance Sports. You learn the same strategies Dr. Cohn teaches his tennis players to help them improve mental toughness and consistency – from managing unrealistic expectations to coping with perfectionism.
Read more about Tennis Confidence Program>>