Focusing on The Process To Play in The Zone
How exactly do you focus your best during matches? How do you focus on the process during them?
All tennis players compete to win, right? Winning matches is the goal when you step on the court.
Maybe you're goal is to break into the Top 10 in the rankings, and you know that requires winning some matches…
Here's what may be counter intuitive to you: If you want to win matches, you don't want to focus on winning when playing…
When you focus solely on winning or losing, you become preoccupied about the future, and the future is uncertain.
When your mind is focused on an uncertain future, you become anxious or fearful of what might or might not happen.
The outcome of a match and the aftermath or what it means if you win or lose is a big source of anxiety.
So, focusing on outcomes (wins, losses and ranking) is the first "don't."
Focusing on the past is another mental game no-no.
You might ask, "Isn't it important to learn from the past?"
Learning from the past is important, but dwelling on the past is a problem.
What can you focus on in the past that will help you?
Tactics or strategy.
The problem is that many players relive their mistake, bad match and loss. When you focus on the past, you quite often beat yourself up, degrade yourself, and can't focus on the current point.
What should you focus on to play your best tennis on a consistent basis?
To play at your peak, you MUST focus on the process.
The process is defined as only thinking about the current point, one shot or one serve at a time.
The process is also called a present-moment focus.
The process can be focusing on your tactics for one point.
The process could be only focusing about your service routine or return of service.
The process could be focusing on playing one ball at a time.
Having smaller goals for the match, or mini-goals, helps you to do this…
Top-ranked Andy Murray is not too concerned about retaining his ranking. Murray knows if he takes care of business and focuses on the process, the results will take care of themselves.
MURRAY: "I don't need to stay as the world No. 1. Nothing bad happens if I go to world No. 2. My life is OK; no one dies. It's all good, but I do want to try and stay there."
Murray's goal is staying atop the rankings but he understands he can only do so by focusing on the process…
4 Steps to Focusing on the Process
You probably have a goal for tennis. Now clearly define it and go after it.
What exactly do you want and when do you want to accomplish this goal?
Set your goals aside and now focus on the process every practice and match:
Know what performance cues will help you focus on each point or drill.
Know what things are just a distraction, such as thinking ahead or worrying about what others think.
Do your best to focus only on the important cues, such as "set up early."
No one is perfect with their focus all the time–even the pros. That's why you have to be prepared to refocus your mind when you start to think ahead about outcome or dwell on previous points.
---
Related Tennis Psychology Articles:
*Subscribe to The Tennis Psychology Podcast on iTunes
*Subscribe to The Tennis Psychology Podcast on Spotify
---
Improve Your Mental Game for Tennis
Tennis Confidence 2.0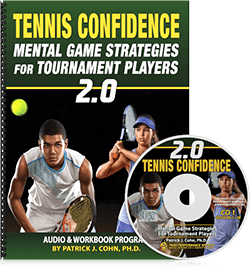 "Tennis Confidence: Mental Game Strategies for Tournament Players" is Dr. Cohn's program to help tennis players, coaches, and instructors improve the mental game of tennis is just 8 easy to learn sessions. Tennis Confidence: Mental Game Strategies for Tournament Players Audio and Workbook program is ideal for any junior, collegiate, and tour professional player. Tennis coaches and instructors would also be wise to teach the strategies in "Tennis Confidence 2.0."
Tennis Confidence is a complete mental training program developed Dr. Cohn. You learn the same strategies Dr. Cohn teaches his personal students to help them improve mental toughness and consistency – from managing unrealistic expectations to coping with perfectionism. 
Read more about Tennis Confidence Program>>