Mental Strategies to Manage Competitive Pressure
"Why do I always melt down in tennis matches? I don't know what's wrong with me."
This is a common conversation in the office of a mental game coach.
If we roll the tapes further, the conversation continues as such:
"This always happens to me. Every time when the match is on the line, I double fault, hit the ball long, or just freeze on an easy return shot."
"I just get so nervous that I mentally freak out. After my opponent is up a couple of games, everything unravels for me. I lose my confidence and it feels like I am going to lose every point."
Okay maybe you have mentally collapsed during a few tournaments. But why? Is it because of a lack of latent to win matches or critical points?
"I think it's the pressure. I can't seem to handle the pressure. It is so overwhelming that I start to think of everything that could go wrong. I think of all the other times I choked in matches. I think of how I have let my coach down in the past."
"I imagine all the negative criticism I'm going to receive from my parents on the car ride home. By that time I can't focus on playing tennis at all."
So, if you can learn to handle the pressure better, you would win more matches?
"Probably."
At this point you have identified the main issue. GREAT! What a relief to know that this issue has little to do with your physical ability.
You probably starting thinking, "Oh no… I'm mental."
Let's not over-dramatize the situation.
There is not something wrong with you.
You just haven't been properly taught how to manage competitive pressure.
Learning how to manage pressure is a skill every tennis player needs to learn to optimize their play on the court.
Fifth-ranked Dominika Cibulkova realized she needed to learn effective on-court mental strategies so she hired a mental training coach to learn how to better deal with pressure.
Cibulkova was already a highly-ranked player but, admittedly, needed some mental training to get over the hump.
CIBULKOVA: "On the court I [show] a lot of emotions, and emotions just affect me. This is something I started to learn how to deal with emotions and not let down myself; just to keep focused… I really work hard on it."
Managing pressure is an area where many sport psychologists dedicate the majority of their time.
Imagine how much better you could play if you could manage competitive pressure…
What could you achieve in tennis if you could stay composed instead of succumbing to the weight of pressure?
Now, let's get the ball rolling.
How can you learn to better manage pressure?
In Cibulkova's case, she did three things:
–Practiced managing pressure
–Stopped blaming herself when she did get nervous
–Quieted her mind and focused on the next point
Cibulkova's work paid off when she beat No. 1 ranked Angelique Kerber in straight sets 6-3, 6-4 to win the 2016 BNP PARIBAS WTA Finals in Singapore.
CIBULKOVA: "Now I see this mental part for me, it's like going to practice and actually practice on the court. As I practice on the court I practice on these things. As you can see, it's working. Yeah, I don't blame myself that I got a little bit nervous on the first two match points…"
"But, what's really important for me is that I stayed really strong mentally. Even when she had two break points, I was still in the game. I stayed calm and I knew I have to stay focused and just to forget really quickly [after a lost point] and to focus on the serve, what I want to do next…"
There are some important lessons to be learned here:
LESSON #1: You can only learn to manage pressure if you practice playing under pressure situations. You can't just focus on dealing with pressure once in a while. You must commit to learning how to effectively manage pressure on a daily basis.
LESSON #2: Everyone gets nervous. You are not special in this regard and just because you have that little edginess does not meet your whole game will fall apart. Learn a good relaxation strategy that you can rely on so you can remain poised under pressure.
LESSON #3: Focus not on what just happened or what might happen… focus on what you want to happen right now. Focusing on the present requires that you have selective amnesia (so you can forget the last point) and blinders (to prevent you from looking too far ahead).
If you want no more letdowns and no more meltdowns, get to work developing your 3 point plan to manage pressure. Your game will thank you!
Learn all of my secrets to boosting your mental toughness in tennis!
---
Related Tennis Psychology Articles:
*Subscribe to The Tennis Psychology Podcast on iTunes
*Subscribe to The Tennis Psychology Podcast on Spotify
---
Improve Your Mental Game for Tennis
Tennis Confidence 2.0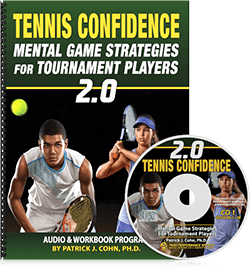 "Tennis Confidence: Mental Game Strategies for Tournament Players" is Dr. Cohn's program to help tennis players, coaches, and instructors improve the mental game of tennis is just 8 easy to learn sessions. Tennis Confidence: Mental Game Strategies for Tournament Players Audio and Workbook program is ideal for any junior, collegiate, and tour professional player. Tennis coaches and instructors would also be wise to teach the strategies in "Tennis Confidence 2.0."
Tennis Confidence is a complete mental training program developed Dr. Cohn. You learn the same strategies Dr. Cohn teaches his personal students to help them improve mental toughness and consistency – from managing unrealistic expectations to coping with perfectionism. 
Read more about Tennis Confidence Program>>